Welcome to F.I.E.L.D.- the First Ismaili Electronic Library and Database.
Prince Amyn Aga Khan visits Tajikistan 2011-04-05
Posted January 4th, 2016 by librarian-hd
Date:
Tuesday, 2011, April 5
Source:
news.tj Asia-Plus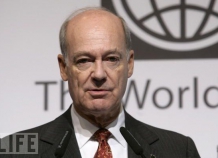 DUSHANBE, April 5, 2011, Asia-Plus -- Prince Amyn Aga Khan, younger brother of His Highness the Aga Khan—founder and Chairman of the Aga Khan Development Network (AKDN), arrived in Dushanbe today.
According to AKDN Tajikistan, during his one-day visit, Prince Amyn is reviewing progress of AKDN projects in the country, including the Dushanbe Serena Hotel.
Prince Amyn is a member of the Board of the Aga Khan Fund for Economic Development (AKFED) and is the Chairman of its Executive Committee. AKFED – the economic development arm of the Network, initiates and supports economic development activities in the countries of Africa and Asia. In the late 1960's he launched Tourism Promotion Services (TPS), which currently operates the Serena Group of Lodges, Resorts and Hotels in Afghanistan, Kenya, Mozambique, Pakistan, Rwanda, Tajikistan, Tanzania, Uganda, and Zanzibar.
Five-star Dushanbe Serena property is scheduled to open in the third quarter of 2011. The nine-story hotel will boast 85 rooms including suites, a banquet hall, meeting rooms, restaurants, a bar and lounges, a business centre, a gym and a health club. It will also have 10 serviced apartments and office space to meet the growing demands of expatriate community and multinational organisations based in the city.
The Dushanbe Serena Hotel has been designed by the renowned architects and interior design firm Le Groupe ARCOP based in Montreal, Canada. It follows Serena's successful design standards reflecting on strong local design features rooted in Tajikistan's rich cultural heritage enveloped in a modern glass structure. The facility will offer 540 square meters of purpose built meeting and conference spaces for executive board meetings, large banquets and state functions. The hotel's food & beverage outlets will feature an all-day-restaurant, a tea lounge, a roof-top restaurant and a lobby lounge with a bar. Health-and-leisure facilities consist of an extensive Fitness and Spa Centre including treatment rooms, a roof-top swimming-pool and a car parking.
Over 300 people have been employed during the Dushanbe Serena's construction phase and it is expected to create some 200 staff positions. At all levels of recruitment emphasis will be placed on hiring staff from the local population. In an effort to develop local management capacity, employees will be given extensive training in hotel management, including on-the-job training in other Serena facilities.
TPS projects strive to contribute to development of tourism infrastructure and hospitality industry in an environmentally and culturally sensitive manner. With the opening of the Dushanbe Serena Hotel, TPS will further enhance its support to Tajikistan by increasing foreign exchange earnings, tax revenue, improving the availability of trained manpower, providing employment to local residents and promoting the indigenous products by training the local vendors etc.
More broadly, by offering high quality accommodations for tourists and business travelers, Serena projects will support Tajikistan's efforts to become a more viable, friendly and comfortable destination for visitors, which ultimately will translate into improved economic activities in the country.