Welcome to F.I.E.L.D.- the First Ismaili Electronic Library and Database.
Mawlana Hazar Imam arrives in Uganda ahead of hospital announcement 2015-12-16
Posted December 16th, 2015 by librarian-hd
Date:
Wednesday, 2015, December 16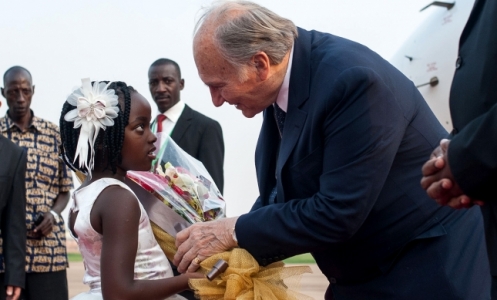 Entebbe, 16 December 2015 — Mawlana Hazar Imam arrived in Uganda today ahead of an expected event announcing plans for a new Aga Khan University Hospital to be established in Kampala.
Hazar Imam revealed his intention to establish the hospital in February, at the convocation ceremony of the Aga Khan University.
"With the cooperation of the government we plan to establish a new Aga Khan University Hospital in Kampala," he said in his convocation address. "No Ugandan should have to leave the country to seek quality medical care."
Upon his arrival, Hazar Imam was presented with flowers by a six-year-old girl. He was welcomed to the country by the Honourable Dr Tumwesigye Elioda, Minister of Health on behalf of the Government of Uganda, as well as AKDN Resident Representative Mahmood Ahmed and Ismaili Council for Uganda President Minaz Jamal.
The Aga Khan University Hospital ceremony is expected to take place tomorrow in Kampala.