Note: Audio is placed below the main text, when available.
Welcome to F.I.E.L.D.- the First Ismaili Electronic Library and Database.
Aga Khan III - Platinum Jubilee Homage - 1955-02-20
Posted February 20th, 2015 by heritage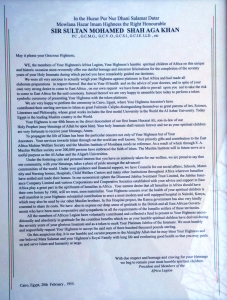 Date:
Sunday, 1955, February 20
Homage submitted by the President and Members of the Africa Legion to Imam Sultan Muhammad Shah Aga Khan III on February 20th, 1955 on the occasion of the completion of 70 years of Imamat.
Speech
Posted February 15th, 2021 by librarian-hd
Source:
institute of Ismaili Studies
Material Intelligence and Spiritual Enlightenment
An Address at the Platinum Jubilee Ceremony
Sir Sultan Muhammad Shah Aga Khan
February 20, 1955 Cairo, Egypt