Note: Audio is placed below the main text, when available.
Welcome to F.I.E.L.D.- the First Ismaili Electronic Library and Database.
Hazar Imam arrives in DaresSalaam 2014-08-02
Posted August 2nd, 2014 by librarian-hd
in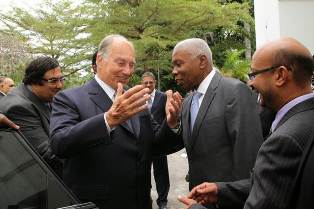 Date:
Saturday, 2014, August 2
Hazar Imam arrived in Dar es salaam, Tanzania on 2nd August for the hospital opening and
then will go Arusha for the Aga Khan university development
Recent Articles
Posted August 20th, 2014 by librarian-hd
Source:
allAfrica.com, Tanzania
THE recent visit by His Highness the Aga Khan has opened up Tanzania to greater investments in the economic and social development of the country.
The current Aga Khan, who has been a friend of Tanzania since before independence is a keen follower and partner in the socio-economic development of mostly underdeveloped or developing nations, especially in Africa and Asia. Shah Karim's love for Tanzania has amply been proved by his frequent visits to the country having also attended the Independence celebrations of Tanganyika in 1961.
Posted August 1st, 2016 by librarian-hd
The Aga Khan Hospital has been awarded accreditation for good quality by the Joint Commission International (JCI).
JCI is a not-for-profit organisation dedicated to continuously improving, providing and sustaining safety and good quality medical services. The accreditation means that the Aga Khan Hospital has achieved a level of quality and patient service that is equal to the best hospitals in the world.