Welcome to F.I.E.L.D.- the First Ismaili Electronic Library and Database.
SPEEECH BY HIS HIGHNESS PRINCE KARIM AGA KHAN in Pakistan - 1981-02-14
Posted March 24th, 2010 by heritage
Date:
Saturday, 1981, February 14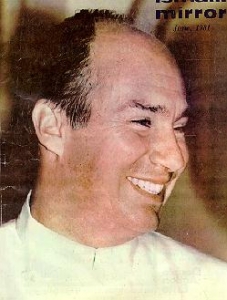 Your Excellencies, Ladies and Gentlemen,
It gives me great happiness this afternoon to be present at this ceremony which honours one of Pakistan's leading citizens who, for myself and my family, has also been a very dear friend.
We are here to celebrate the publication of Begum Ra'ana Liaquat Ali Khan's book of speeches delivered to countless audiences at home and aboard. These speeches illustrate the career of one of the most remarkable women of our time. The range and variety of her subject matter and the conciseness of her writing has caused me to regret that I never thought much earlier of inviting her as a speech writer to write my own speeches.
Begum Ra'ana's contribution to Pakistan itself is well known to you all. It was first illustrated by the tremendous sacrifice which she made so readily and spontaneously when the Quaid-e-Azam called upon her late husband Nawabzada Liaquat Ali Khan in 1936 to become the General Secretary of the Muslim League. It was followed by her unceasing efforts to raise the standards of those whose support she pledged at that time to the Father of the Nation, when she and her husband besought the Quaid to return to India and lead the Muslims. 'Come at once,' she said, 'the women will be with you.'
It is to the women of Pakistan that Begum Ra'ana has devoted a life's work. Throughout her public career, as wife of Pakistan's first Prime Minister, as Ambassador, as Governor and as University Chancellor, she has worked continuously for the upliftment, the education and the legal rights of the women of this country.
The continuing instrument of this work has been the All Pakistan Women's Association which she founded over 30 years ago together with Lady Nusrat Abdulla Haroon. This institution flourishes today and has a proud record of nation building.
APWA, as it is known, has established its industrial homes, colleges, small industries. It provides work and shelter for the unemployed and destitute refugees. It has set up community centres, dispensaries and clinics in rural areas. Above all, under Begum Ra'ana's guidance, it has sought to give the young women of this country educational opportunities at every level, by enabling them to take up vocational employment and contribute to the family income.
Looking through this book of speeches, I came across one whose title immediately caught my attention: 'Educate a woman and you educate a family.' That was a sentiment voiced by my grandfather as long ago as the founding of the Muslim League and it is a precept which my family has encouraged ever since.
I think it is a very happy coincidence therefore, that I should be introducing this book just two days before the President of Pakistan will open a new School of Nursing built by the Aga Khan Hospital and Medical College Foundation. Nursing is a career for young girls which Begum Ra'ana has championed all her life. In another of her speeches, and I note it was made as long ago as 1951, she underlined the desperate shortage of trained nursing staff in this country. The enormous increase in the population of Karachi makes that message even more imperative today than it was nearly 30 years ago.
I commend you all to read this record of a great Lady's life work. It should find a place on everyone's bookshelf and serve as an example to us all and to our children.
Thank you.