Welcome to F.I.E.L.D.- the First Ismaili Electronic Library and Database.
Speech at the Opening of the Quetta Serena Hotel - 1989-03-16
Posted March 24th, 2010 by heritage
Date:
Thursday, 1989, March 16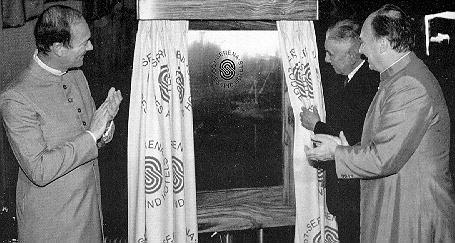 Your Excellency The Governor Of Baluchistan,Honourable Federal Minister For Culture and Tourism,
Distinguished Guests,
I am delighted to be able today to perform the official opening of the Quetta Serena Hotel, which actually started doing business-albeit on a limited basis- some months ago in July 1988.
Quetta, the capital of Baluchistan, is a city with a rich and colourful history, a city which has enjoyed steady growth over these past years.
It is certain that this hotel would never have been realised without the continued and unwavering support of the Government of Pakistan, Indeed, it was the government's specific request that the Aga Khan Fund for Economic Development should consider promoting hotels in those major or growing cities of Pakistan which, for one reason or another, still found themselves without first class hotel accommodation. At the end of 1987, we thus opened the Faisalabad Serena Hotel in answer to that call and today, at the other extremity of the country, we are opening this hotel, both my brother Prince Amyn and I hope that the Quetta Serena will bring a major contribution to the economy of Baluchistan and to the social life of this city.
Let me break here to pay my admiring gratitude and compliments to the artisans of this new hotel. I have already mentioned the government at all levels, including of course the provincial and local governments, and all their agencies. To my brother Prince Amyn, and everyone who has worked with him, I express my sincerest thanks and my deep respect for the hard work, tenacity and will-power they have shown over many long months to develop another Serena Hotel of outstanding beauty and which, Inshallah, will meet the highest professional standards of service.
If I look to the years ahead and ask myself where are the principal areas of potential growth in the Pakistani economy, I am perplexed as to whether this country can, and should, seek to harness itself to the fastest growing sector of the economies of both North America and Western Europe, and which by the end of this century, 11 years away, will have become America's and Europe's number one industry, namely transport and leisure, or whether Pakistan will let itself be bypassed, either due to default or a conscious decision to remain aloof, it is worth reflecting, on some of the dynamics of this megaforce of the American and European economies, and the way in which some countries not so remote from Pakistan, or so different from her are making it work for them.
At the present time, and in the foreseeable future, it is the industrialised countries that will be exporting tourists and Third World countries will be seeking to attract them. This process depends on a number of factors, but the principal one is the growth of the air transport industry, and whether that growth will cause higher or lower tariffs per passenger seat mile. The way in which the oil crisis affected the air transport industry not long ago, provoking shrinkages in services and escalations in tariffs will not be forgotten rapidly.
At the present time, the Boeing Aircraft Company which supplies between 50% and 60% of the world's civil aviation industry, has over 1,500 aircraft ordered, but not yet delivered. This is the largest order backlog in the history of civil aviation. McDonald Douglas and Airbus are experiencing similar pressures. This means, simply that the next decade will see a revolutionary explosion in air transport around the world. If the air transport industry has already committed itself to dramatic growth in capacity in the future, are its economics secure, or is there a likelihood that another major fluctuation in oil prices could cause the industry to shrink back into brutal recession, repeating the situation of a few years ago, with severe damage to those countries that have invested in the development of their tourism?
My belief is that, that is very unlikely: the aviation industry has already developed the technology, partly as a result of the past oil crisis, substantially to reduce the fuel burn on commercial aircraft, the new technology of the prop fan which will save up to 20% in fuel consumption is in such an advanced stage of development that both Boeing and McDonald Douglas could produce prop fan powered aircraft at extremely short notice, and will certainly do so should oil prices suddenly escalate. In fact a number of aircraft types that are already flying are capable of being retrofitted with this technology.
Thus two fundamentally important considerations for the future development of world tourism can be confirmed, first that the air transport industry will grow in capacity dramatically in the decade ahead, and secondly that the tariffs per passenger seat mile are unlikely to inflate even if there is a sudden escalation in fuel prices, indeed, in this regard, at the present time, stable fuel prices, and in the industrialised world deregulation, combined with the control of inflation, are actually causing reductions in air passenger tariffs. A country such as Pakistan, which is geographically distant from the tourist-exporting markets of Japan, North America, and Western Europe, would not therefore be at risk from factors such as insufficient air transport capacity or rapid tariff escalation if the country were to commit substantial resources to the development of its tourism.
The second question to ask about tourism as a growth area for the Pakistani economy is whether, air transport considerations apart, tourism trends in countries close to, or similar to Pakistan, indicate that the world's leisure industry does hold potential for this country. So what is happening in Asia, and the Third World generally?
Recently it was reported that:
Tourism earned poor countries 22 billion US dollars in 1988, which was theirs econd largest earner of foreign exchange. The first being oil. In 1988 Turkey earned 2 billion 400 million dollars from tourism. The countries of South-East Asia, which 10 years ago commanded approximately 10% of the world tourism market, today command a staggering 39% of it.
What this means, is that tourism is growing rapidly throughout the developing world and specifically to the west of Pakistan, in Turkey, and to the East, in South-East Asia. What this also means, unfortunately, is that most of this growth is either stopping on the west of Pakistan or over-flying this country to travel to South -East Asia.
If this is true, why is it happening? Is is because alcohol is not sold freely and is available to foreigners only, or because only traditional dancing is permitted or are there other much more significant reasons. Surely if Turkey, Morocco, Tunisia, Malaysia, Indonesia and other countries with large majorities of Muslim populations have been able to find an acceptable balance between their legitimate concerns for the respect of their faith, culture and traditions, while at the same time meeting the demands of international tourism, Pakistan is capable of doing likewise. Indeed, these Serena Hotels themselves are endeavours at demonstrating the cultural adaptability of tourism infrastructure, by respecting and enhancing local architecture and tradition, as well as the local handicrafts in textiles, metals and wood.
Perhaps, however, there are more fundamental reasons for the slow growth of tourism in Pakistan.
Might it be that the quality of airports, and the way they process passengers, affects the tourists willingness to travel? Is Singapore's tourism growth in some way linked to its airport having been voted last year the best in the world by frequent travellers?
Might it be that there are no hotels, or only sub-standard ones in many of Pakistan's towns, cities and historic places? Might it be that unavailability or undependability of the telephone, telex or the telefax systems dissuades people in need of communication from coming here? Is the manpower of public services trained to welcome the visitor? To assist him in the problems he may have with regard to language, transport, communications, or currency? More fundamentally, is it public sector or the private sector who in Pakistan's economic planning are primarily responsible for the development of tourism? Are they expected to compete, and if so, on what conditions, and what are the incentives if any, which the government is prepared to consider to encourage Pakistani and international capital markets to invest here in its tourism?
Nations, be they in the developed or Third World, will underestimate only at their own peril the role that tourism, and the leisure industry in general can and will play in their economies and in their overall growth in the years to come.
I am not alone to hold this conviction. Perhaps the best informed and most powerful of specialised American leisure industry publications, Hotel and Resort Industry, in its cover story of December 1988, reviewing the attitude to the industry of the new administration of President Bush in America, wrote, '... tourism is the fastest growing industry in the nation, currently holding the number three position, in terms of sales, behind food and automobiles. And the U.S. Department of Commerce predicts it will take over the number one position by the year 2000. The article continues by quoting President Bush himself; 'Tourism is a $270 billion industry. As the nation's second largest employer, it employs 5.5 million people and generates more than $300 million in goods and services. During the Reagan-Bush administration, 1 million enterprises in the industry have produced 1.3 million jobs, 98% of which are in small businesses. For every 7 persons employed in the travel and tourism industry, 3 additional persons find work in related businesses.
These figures and predictions are incontrovertibly of the highest significance. The North American tourism projections, aided no doubt by the recent tightening of the links between the United States and Canada, point clearly to the potential productivity of this sector for countries of the Third World, as a spin-off of this rapid growth.
Nor can it be any coincidence that a mere couple of months later in early February of this year, the prestigious Financial Times, in an article about British tourism quoted Duncan Black, the chairman of the British Tourist Authority, as saying, 'International travel is predicted to become the world's biggest industry by the end of this century and more and more countries are looking to tourism to replace other industries which are in decline'
It is a fact that an enormous acceleration has occurred world-wide in the leisure industry. The formation of large trade blocks on the North American continent and in Europe, growing levels of individual incomes and disposable cash, rising quantities of free time to all levels of society in increasing numbers of countries, deregulation and growth in the air transport industry, all these are factors that are contributing to the explosion we are witnessing.
It becomes thus, imperative, that countries recognise this phenomenon, particularly the countries of the Third World with their grave foreign exchange and unemployment problems, and that they take the necessary steps to take maximum advantage of this phenomenon.
It is a platitude that governments of developing countries must take the necessary basic measures to stimulate investment and growth in the key sectors of their economy. But in the case of tourism in Pakistan, what might they be in addition to the points I have made earlier? Guaranteeing of investments in foreign exchange and the repatriation of those funds? Facilitating international airline access, including charter carriers? Taking a reasonable attitude to importation of essential equipment, expertise and manpower? Providing fiscal and other incentives to new projects, particularly in difficult areas? Easing the administrative measures for correct maintenance of leisure facilities once developed? Executing appropriate marketing and sales actions abroad? Promoting training? And, in general, taking all reasonable measures to stimulate the private sector to invest in, promote, and earn from the leisure industry. It is a fact that government cannot do the job alone; but it is equally true that government must play the role of a catalyser.
I believe it is essential the Pakistan should find a means to create an appropriate enabling environment with the greatest speed. There is so great an acceleration at present in international tourism that those who do not know, or learn how to take advantage of it, will all too soon find that they have irrevocably compromised their potential,
Probably at no time has it been more important for Pakistan to take long term strategic decisions to position herself correctly in regard to the leisure industry, the fastest growing industry of the wealthiest countries of our globe.
I hope that this Quetta Serena Hotel will endure and succeed, and be a contributor to the development of Pakistan's tourism industry as well as a precursor of a major national effort to join the worldwide explosion of the leisure industry
Thank you
Now I declare the Quetta Serena open.