Welcome to F.I.E.L.D.- the First Ismaili Electronic Library and Database.
Aga Khan's classy stayer Vazirabad the newest ambassador for French retraining of racehorses charity 2021-08-24
Posted August 25th, 2021 by librarian-hd
Date:
Tuesday, 2021, August 24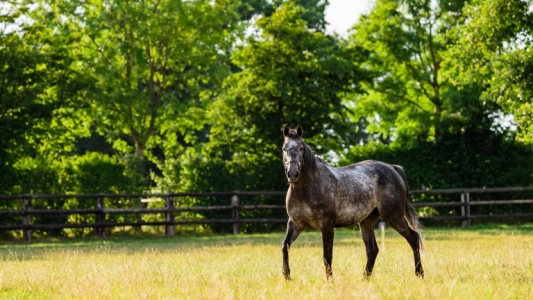 The Group 1 action at Deauville came to an end on Sunday with the twin highlights of the Morny and the Jean Romanet, but French racing's summer by the sea has at least one more gift to deliver in the shape of Saturday's Racehorse Retraining day.
It is fair to say France was a little late to the party when it came to a unified approach to aftercare, retirement planning and linking up with what is a voracious appetite in the wider equestrian population for sourcing horses once their first career is over.
Founded in 2016, Au-Dela des Pistes set out to change the perception that racehorses did not have the temperament to be rehomed by riders in other disciplines, and Saturday's raceday is a celebration of all the work which goes into that.
Much to the envy of other retraining organisations around the world, France Galop allows demonstrations of dressage, polo, horseball and showjumping both in the parade ring and in front of the stands during the course of the afternoon.
Those who were present in previous years will have vivid memories of Kasbah Bliss being put through his dressage paces by Eugenie Danloux as former trainer Francois Doumen and owner Henri de Pracomtal watched on from the stands, tears in their eyes.
Danloux has since worked with former crack sprinter Signs Of Blessing and has now begun preparatory work with the latest ADDP ambassador, the Aga Khan's classy stayer Vazirabad.
A three-time Group 1 winner and hat-trick hero in the Dubai Gold Cup – as well as arguably being the horse to give Stradivarius his biggest test during the three years of his Ascot reign – Vazirabad built up a major following around the world and will be the newest star to join the parade of champions on Saturday.
Trainer Alain de Royer-Dupre is certainly looking forward to following his progress, having grown up in the wider equestrian world while his father was director of the Haras de Saint-Lo, which breeds sport horses, before turning his talents to racing.
Royer-Dupre says: "He always took a while to understand when something new was asked of him but it was fine once the penny dropped and he had a terrific turn of foot over those long distances.
"You had to ride him and train him with feeling and so it's great that he is now with a hugely talented rider in Eugenie. Often when they are very good in one discipline that translates to another.
"I went to see him in his paddock at Haras d'Ouilly and he was always too excitable to become a trainers' hack, while resting in a field it was the same. I think the two of them will make a wonderful partnership."