Welcome to F.I.E.L.D.- the First Ismaili Electronic Library and Database.
AKU releases findings of Pakistan's largest vaccine survey 2021-07-15
Posted July 16th, 2021 by librarian-hd
Date:
Thursday, 2021, July 15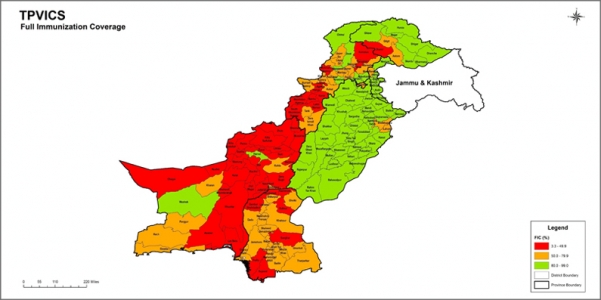 The largest-ever survey of routine immunisation coverage across Pakistan has found that 76.1 per cent of children under the age of 2 years have received the full course of vaccinations recommended by Pakistan's government.
Of the remaining children, more than 1 in every 6, or 17.7 per cent, have been partially vaccinated while 5.9 per cent of under 2s have never been vaccinated, according to results from The Third-Party Verification Immunization Coverage Survey, TPVICS.
The TPVICS study​, which spanned over 110,000 households across all districts of Pakistan, was conducted on behalf of the country's federal and provincial governments by researchers from Aga Khan University's Centre of Excellence in Women and Child Health, and its academic partners between July 2020 and December 2020. The study's findings were discussed by provincial health ministers and federal government officials at a launch event at the Serena Hotel, Islamabad.
The survey revealed regional disparities in immunisation with the following coverage levels: Punjab, 89.9 per cent, Azad Jammu and Kashmir, 88.8 per cent, Khyber Pakhtunkhwa, 68.4 per cent, Sindh, 61.1 per cent, and Balochistan, 37.6 per cent.
"Results from this survey have yielded valuable district-level insights," said Dr Muhammad Akram Shah, national programme manager for the federal government's Expanded Programme on Immunization, EPI. "These findings will help inform the government's efforts to improve internal processes and to identify risks and opportunities that will enable the country to achieve universal immunisation coverage."
Pakistan has some of the world's highest levels of infant and child mortality which are partly a result of low vaccine coverage. Low immunisation levels cause a variety of problems for the country's health system. These range from the persistence of polio as well as the high prevalence of preventable diseases such as childhood diarrhea, pneumonia, tuberculosis, meningitis and hepatitis.
"Vaccines represent a low-cost and high-impact intervention that can raise health standards across the country," said AKU's Professor Sajid Soofi, the study's principal investigator. "Pakistan is one of the few countries in the world where diseases such as polio and measles remain endemic and findings from the study will help us take targeted measures in parts of the country facing the greatest threat from vaccine preventable diseases."
Improving immunisation levels across the country can help achieve health-related targets under the UN Sustainable Development Goal 3 which requires the government to end all preventable deaths of newborns and children under 5 by 2030.
The TPVICS was conducted by researchers from AKU in partnership with Pakistan's federal and provincial governments, the EPI programme, the World Health Organization, GAVI the Vaccine Alliance, and the Pakistan Bureau of Statistics. The survey was funded by the World Bank and the Bill and Melinda Gates Foundation.
​​
​​​​​​​