Welcome to F.I.E.L.D.- the First Ismaili Electronic Library and Database.
Obasanjo in Kabul to discuss peace, stability in Afghanistan (with AKDN participation) 2021-07-05
Posted July 6th, 2021 by librarian-hd
Date:
Tuesday, 2021, July 6
Source:
www.thecable.ng The Cable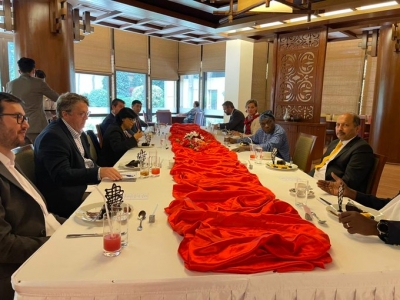 Former President Olusegun Obasanjo, on Monday, arrived Kabul, capital of Afghanistan, to hold discussions on promoting peace and stability in the south Asian country.
The ex-president is said to have held discussions with Sheherzade Hijri, ambassador of the Aga Khan Development Network (AKDN), and other diplomatic representatives.
Mansoor Khan, ambassador of Pakistan to Afghanistan, confirmed the development via a tweet on his official handle on Monday.
"Today, frank discussions at lunch with former President of Nigeria, Excellency Olusegun Obasanjo, hosted by AKDN Ambassador Sheherzade, about promoting long term peace, stability, reconciliation and development in Afghanistan," Khan wrote.
The AKDN is an international organisation with several agencies focused on improving "the welfare and prospects of people in the developing world, particularly in Asia and Africa".
Although there have been several attempts to foster peace in Afghanistan, the country has been a hotbed of armed conflict, which dates back more than four decades.
Meanwhile, the work of the AKDN in Afghanistan commenced in 1996, "when it started distributing food aid during the country's civil war", and "since 2002, AKDN and its partners have committed over US$1 billion in development assistance to the country".