Welcome to F.I.E.L.D.- the First Ismaili Electronic Library and Database.
$4.2m GB project envisages massive tree plantation
Posted October 11th, 2020 by librarian-hd
in
Date:
Saturday, 2020, October 10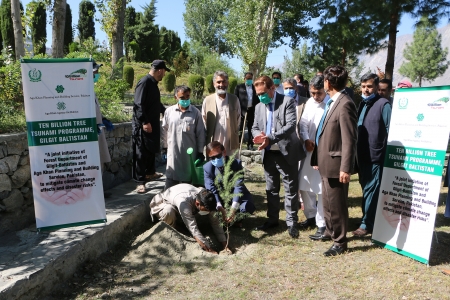 The Newspaper's Correspondent
GILGIT: The Aga Khan Agency for Habitat Pakistan (AKAH-P) and the government of Gilgit-Baltistan have announced a US dollar 4.2 million project to plant 50 million trees across the region to reduce the climate-induced natural disasters.
The announcement was made at a function here on Friday.
The project will use tree plantation to absorb carbon and stabilise soil and slopes in hazard-prone areas, mitigating climate change and disaster risk, according to a press release issued here on Friday.
The GB government will contribute $4.2 million to the four-year project, leveraged by a $537,000 grant from the Prince Sadruddin Aga Khan Fund for Environment.
The forest, wildlife and environment department will plant 50 million trees on 300 sites with technical support from AKAH.
AKAH will use its hazard, vulnerability, risk assessment methodology to identify hazard-prone and steep-slope sites, which could benefit from plantation for stabilisation, particularly along roads and critical infrastructure.
Speaking on the ocasion, Shahid Zaman, secretary forest and wildlife, said AKAH would provide technical support for the implementation of this very important project which has a global significance around climate change mitigation.
Nawab Ali Khan, the AKAH Pakistan chief executive officer, said: "AKAH-P is excited to partner with the forest department on this project, particularly as it directly contributes to the Aga Khan Development Network's (AKDN) climate change strategy and to the government's vision of a green and clean Pakistan".
Hafiz Sher Ali, president Aga Khan Council for Pakistan, said: "I am pleased to see AKAH's continued collaboration with the GB government in many areas of development in the region.
Meanwhile, the AKAH Pakistan signed an agreement with the GB government to conduct a study for providing drinking water to central Hunza from the Attabad lake.
The feasibility will include hazard vulnerability and risk assessments of the supply line in eight villages.
The agreement was signed between the GB's planning and development department and AKAH Hunza.
Central Hunza faces acute water shortage as most villages depend on two glacial melt streams (Hassanabad and Ultar nullahas) as their primary source of water. The recent glacial lake outburst floods from both the glaciers had severely impacted water supply and other community infrastructure.
On the occasion, Abrar Hussain Shah, additional chief secretary GB, said the regional government was grateful to AKDN for realising several development projects.
Published in Dawn, October 10th, 2020