Welcome to F.I.E.L.D.- the First Ismaili Electronic Library and Database.
IFC: Serena Hotels First in Pakistan to be Recognized for Gender Equality Efforts 2020-02-14
Posted February 18th, 2020 by librarian-hd
Date:
Friday, 2020, February 14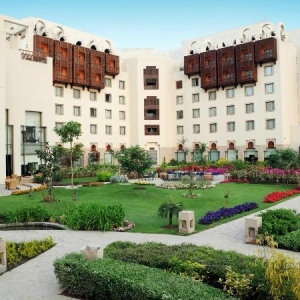 Islamabad, Pakistan – WEBWIRE – Friday, February 14, 2020
IFC, a member of the World Bank Group, announced that Serena Hotels Pakistan has become the first Pakistani company to gain certification from Economic Dividends for Gender Equality (EDGE), the world's leading independent appraiser of gender equality in business, signifying that the hotel chain is committed to improving opportunities for women.
IFC worked with Serena Hotels to help it reach this milestone. The company gained certification from the EDGE Foundation for meeting initial commitments on gender equality, diversity, and inclusion, and for agreeing on a roadmap for further workplace reforms in the future.
"Women make up 12 percent of our overall workforce, despite many social and cultural challenges," said Aziz Boolani, Chief Executive Officer of Serena Hotels. "As a leading hotel chain, Serena Hotels makes every effort to encourage women for their professional development for assuming higher positions, including the leadership role."
IFC's work aims to improve Pakistan's daunting workforce gender gap. Although 47 percent of students enrolled in Pakistani universities are women, only 25 percent of them are employed, compared with 84 percent of men. Narrowing the gap is crucial to the future of millions of women in Pakistan, as well as to the broader economy. An IFC study in 2018 estimated that fully eliminating the gender gap would increase Pakistan's GDP by 30 percent.
"There is no doubt that companies can deliver greater business impact and be more competitive by fostering an equitable and inclusive workplace for women and men," said Nadeem Siddiqui, IFC's Senior Manager for Afghanistan and Pakistan.
"We hope more companies in Pakistan will discover the strength of the business case for greater gender equality in the workplace."
The certification follows a 12-month partnership between IFC and the Pakistan Business Council that included the development of a program to identify and address barriers to women's employment. Presenting peer-learning activities and knowledge tools, the program engaged more than 335 executives from the Pakistan business community on topics including female employee retention, anti-sexual harassment policies, women in leadership, and the business case for women's employment.
IFC and the Pakistan Business Council hosted the "Employer of Choice for Gender Balance" awards in 2018, with Serena Hotels among the firms recognized as a top performer. As an EDGE-certified company, Serena Hotels joins the ranks of almost 200 firms across five continents that are striving to create a workplace where men and women have equal opportunities to thrive and grow professionally.
IFC's relationship with Serena Hotels in Pakistan began in 2007, when it invested in expanding the company's Islamabad location. IFC has worked with Serena Hotels operator Tourism Promotion Services, a subsidiary of the Aga Khan Fund for Economic Development, to construct or refurbish hotels in Afghanistan, Tajikistan, and Rwanda.
About IFC
IFC—a sister organization of the World Bank and member of the World Bank Group—is the largest global development institution focused on the private sector in emerging markets. We work with more than 2,000 businesses worldwide, using our capital, expertise, and influence to create markets and opportunities where they are needed most. In fiscal year 2019, we delivered more than $19 billion in long-term financing for developing countries, leveraging the power of the private sector to end extreme poverty and boost shared prosperity. For more information, visit www.ifc.org