Note: Audio is placed below the main text, when available.
Welcome to F.I.E.L.D.- the First Ismaili Electronic Library and Database.
Annual Paris Peace Conference 2019-11-07
Posted November 10th, 2019 by librarian-hd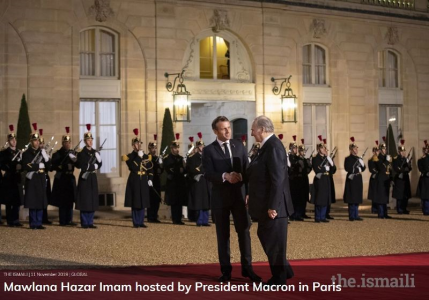 Date:
Thursday, 2019, November 7
On Thursday November 7, Tajik President Emomali Rahmon met in Pars with His Highness the Aga Khan, Imam (Spiritual Leader) of the Shia Ismaili Muslims and founder and Chairman of the Aga Khan Development Network (AKDN).
In the course of the talks, they discussed issues related to state and prospects of further expansion of cooperation between Tajikistan and the Aga Khan Development Network, according to the Tajik president's official website.
Tajik leader reportedly expressed satisfaction with the level and content of real cooperation between Tajikistan and AKDN.
Rahmon and His Highness the Aga Khan discussed implementation of national and strategic programs aimed at providing energy independence of Tajikistan, bringing the country out of the transportation deadlock, constructing bridges and cross-border marketplaces in border areas of Tajikistan and Afghanistan.
hey also touched upon the issue of contribution of the University of Central Asia (UCA)'s Khorog Campus to development of the education sector.
AKDN reports that Hi Highness the Aga Khan met with President Rahmon of Tajikistan ahead of the Paris Peace Forum.
The two leaders discussed areas of regional cooperation and AKDN's shared agenda to promote social and economic development in Central Asia.
The Paris Peace Forum is an annual global meeting bringing together international stakeholders in open dialogue towards global governance, international cooperation and collective action for a peaceful world.
Operating in Tajikistan since 1992, AKDN draws on a strong base of experience in working with mountain societies. It works in all regions of the country and employs over 3,500 people through its operations and investments. The AKDN supports the establishment of programmes and institutions that allow the Government, private sector and civil society to play complementary roles in increasing prosperity and creativity within a pluralistic society.
Mawlana Hazar Imam joined over 60 world leaders for the opening session of the inaugural Paris Peace Forum on 11 November 2018. Leadership from the French Jamat and AKDN were also present at the Forum.
Initiated by French President Emmanuel Macron, the Forum is founded on the principle that international cooperation is key to tackling global challenges and ensuring durable peace. The Forum was launched on the 100th anniversary of the Armistice, marking the end of World War I.
"It is my conviction that one of the key conditions for peace in our world today is a greater respect for pluralism," explained Mawlana Hazar Imam. "In a world challenged by globalisation, social fragmentation and conflict between peoples, pluralism and a well-anchored civil society are essential for human peace and progress. This is why the Aga Khan Development Network (AKDN) is delighted to be a partner of the Paris Peace Forum."
Earlier in the day, Hazar Imam was the guest of the French President at a luncheon held at the Elysee Palace for all the visiting heads of state and government.
Hazar Imam has often spoken about the need to recognise pluralism as a fundamental value of human society, an essential ingredient in the development of a country and a necessity for the existence of a peaceful society. The promotion of pluralism has therefore been an aim of many AKDN programmes, from irrigation schemes bringing together diverse communities and cultures in Pakistan to inclusive reading programmes for children in Kenya, from a project to integrate immigrants in Lisbon to the reintroduction of midwifery schools in Afghanistan. AKDN's ultimate aim is to nurture successful civil societies in which every citizen, irrespective of cultural, religious, or ethnic differences, can realise his or her full potential.
To learn more about the Paris Peace Forum, visit parispeaceforum.org.