Welcome to F.I.E.L.D.- the First Ismaili Electronic Library and Database.
Sir Sultan Mahomed Shah: Enriching lives through education 2019-11-02
Posted November 2nd, 2019 by librarian-hd
Date:
Saturday, 2019, November 2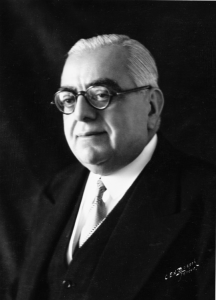 While making the inaugural speech at the All India Mohammedan Educational Conference of 1911, Sir Sultan Mahomed Shah stated, "In order to raise our people to their legitimate sphere of power, influence and usefulness, we must have a serviceable and extended system of education…If our people take to science and scientific education in the right spirit, the industrial and economic future of our community will no longer be in doubt."
A firm believer in the necessity of education and its role in human society, Sir Sultan Mahomed Shah did not think of education as merely a medium of instruction and training but rather as a force that could uplift the human condition. As a highly regarded political figure, religious leader and stalwart supporter of humanitarian causes across the world, he was strongly positioned to drive progress in the field of education and his efforts made a lasting impact that resonates to this day.
Born in Karachi on 2 November 1887, Sir Sultan Mahomed Shah was a prominent Muslim leader in pre-partition India who believed that the problems being faced by the Indian Muslim community were caused by their neglect of education. He advocated that education was the means through which the Muslims of India could develop a strong political presence and the Muslim community at large could establish themselves as a valuable and prosperous community on the world stage. He worked tirelessly from a young age to increase access to education by establishing schools across India and East Africa, including remote and neglected areas. In recognition of his efforts to impart modern education to the Muslims of India, he was appointed to the Imperial Legislative Council by Viceroy Lord Curzon at the age of 25, making him the youngest member on the Council.
The founding of the Aligarh Muslim University in India was made possible by his passion and dedication to establish a centre of learning for the Muslims of the Indian subcontinent. As Chairman of the Funds Collection Committee, he collected three million rupees besides making significant contributions from his own wealth. After the university was founded, he was named its first Chancellor and remained actively involved in its progress and development.
Sir Sultan Mahomed Shah sought to establish Islamic centres of learning that would propagate Islamic culture, history and values. He envisioned Aligarh Muslim University as a modern educational institution that would emulate the standards of the leading universities of the time and play the same role in retaining Islamic heritage that Western universities had played in preserving the tradition of their cultures.
Furthermore, he expressed his desire that Muslim educational institutions embody the spirit of Islam so that students could gain an understanding of Muslim values. He found education to be incomplete without a sense of morality saying, "The far-sighted amongst the Muslims of India desire a university where the standard of learning shall be the highest and where with scientific training there shall be that moral education – that indirect but constant reminder of the eternal difference between right and wrong which is the soul of education." He believed that if Muslims were not taught to uphold Islamic values, the Muslim community would be unable to achieve lasting success and prosperity.
In a time where the education of the female child was not considered a matter of importance, Sir Sultan Mahomed Shah fervently advocated for female education and asserted that educating women was not only important but also vital for the progress of Muslim society, stating, "How can we expect progress from the children of mothers who have never shared, or even seen, the free social intercourse of modern mankind?… The body of Muslim society will be poisoned to death by the permanent waste of all the women of the nation."
Evidence of Sir Sultan Mahomed Shah's commitment to education and the impact of his contributions are not difficult to uncover. In the 1940s, Sir Sultan Mahomed Shah, the 48th Imam of the Shia Imami Ismaili Muslims, dedicated the gifts he received from his followers on his Diamond Jubilee to the development of education and healthcare in the Indian subcontinent and East Africa. The money was used to establish schools, hostels, medical centres and maternity homes.
One such initiative was the Diamond Jubilee schools founded in the northern areas of Pakistan. In the remote and treacherous terrain of Northern Pakistan, where quality education was hard to come by, this initiative propelled communities forward and began a wave of progress which continues to this day. The message imparted by Sir Sultan Mahomed Shah- that of the importance of education – has been passed down to younger generations. In the Northern Pakistan valley of Hunza, almost every child, boy or girl, is given an education, which is considered a necessity and priority. In a country with an overall literacy rate of 55%, the valley of Hunza boasts a literacy rate of 95%. This is due, in no small part, to the movement started by Sir Sultan Mahomed Shah with the Diamond Jubilee schools.
Sir Sultan Mahomed Shah passed away in 1957 after spending his last days in Villa Barakat in Versoix, Switzerland and was laid to rest in Aswan, Egypt. His legacy has been carried forward by his grandson and successor Prince Karim Aga Khan, founder of the Aga Khan Development Network (AKDN). AKDN is global network of development agencies with a mandate that encompasses social, cultural and economic development. Under the present Aga Khan's leadership, it operates a widespread network of schools – 156 schools in Pakistan alone, the Aga Khan Academies in India, Kenya and Mozambique, the Aga Khan University and the University of Central Asia.