Welcome to F.I.E.L.D.- the First Ismaili Electronic Library and Database.
The wedding of Prince Hussain and Ms Elizabeth Hoag
Posted September 30th, 2019 by librarian-hd
Date:
Sunday, 2019, September 29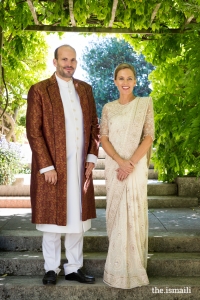 Prince Hussain, second son of Mawlana Hazar Imam, married Ms Elizabeth Hoag in a private ceremony on 29 September 2019, in Geneva, Switzerland. Attended by immediate family members, the proceedings took place in accordance with Muslim tradition.
The nikah was recited by Mr Vahid Khoshideh, President of the Association Islamique et Culturelle d'Ahl-el-Bayt de Geneve, and the proceedings concluded with the recitation of a traditional qasida in Farsi.
"This is a very happy occasion for us and I am delighted to welcome Elizabeth into our family," said Mawlana Hazar Imam.
Since graduating with a Masters of International Affairs from Columbia's School of International and Public Affairs (SIPA), Prince Hussain has worked with numerous agencies of the Aga Khan Development Network (AKDN), concentrating on cultural and environmental issues as well as Disaster Risk Reduction and Emergency Management. He is also the founder of Focused On Nature, an organisation dedicated to the conservation and protection of threatened and endangered species, as well as habitat conservation efforts.
Elizabeth Hoag, who has adopted the name Fareen upon embracing Islam, holds a Master's degree in Mental Health Counselling, and has worked in private practice, specialising in issues of Obsessive Compulsive Disorder and Social Anxiety.
She was born in New York City, United States.
Prince Hussain and Elizabeth Hoag were engaged in December last year.