Welcome to F.I.E.L.D.- the First Ismaili Electronic Library and Database.
CJTF-HOA, Aga Khan University Hospital explore future partnership
Posted July 12th, 2019 by librarian-hd
Date:
Friday, 2019, July 12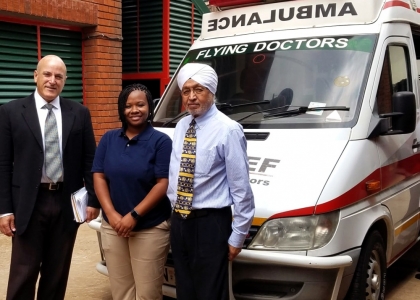 NAIROBI, KENYA
07.05.2019
Story by Petty Officer 1st Class Nicholas Scott
Combined Joint Task Force - Horn of Africa
Subscribe 23
NAIROBI, Kenya – Combined Joint Task Force-Horn of Africa service members performed an on-site survey and subject matter expert exchange at Aga Khan University Hospital, Nairobi, Kenya, July 2-4.
The survey will be used to determine a future partnership between CJTF-HOA and AKUH, with the hospital supporting emergency evacuation of U.S. personnel and partner nations to the hospital in case of emergency; in particular, cranial injuries and neurosurgery.
"We would like a mutually-acceptable plan that can be put in place to enable duly-accredited U.S. military neurosurgical staff to visit, teach and be credentialed to offer academic and clinical services if they wish to volunteer such services," said Mahmood Qureshi, consultant neurosurgeon for AKUH, president of the Continental Association of African Neurosurgical Societies and board member of the Foundation for International Education in Neurosurgery.
A private hospital founded in 1958, AKUH maintains affiliation with Aga Khan University, a medical university founded in Pakistan, and houses 254 beds.
"The hospital is (Joint Commission on Accreditation of Healthcare Organizations) accredited, which is internationally recognized, and we have readily-available neurosurgical facilities and fully-trained neurosurgeons whose credentials are internationally accepted as well," said Qureshi. "Our experience has been positive with other U.S. agencies. Our services are internationally benchmarked, and we have the requisite facilities to match, which are second to none in the region."
"I was very impressed with the facilities, cleanliness and professionalism," said U.S. Air Force Col. James Bermudez, force surgeon assigned to CJTF-HOA and member of the survey team. "It is a level one hospital, which is the top tier in the ranking system. We want to continue and solidify our relationship with (AKUH)."
CJTF-HOA service members who sustain serious injuries are often treated in Germany, and the lengthy transit time can open the door for more complicated medical issues, especially in the case of head trauma, when every minute counts, according to Bermudez.
"(AKUH) is the nearest hospital to CJTF-HOA that has a neurosurgeon and neurosurgery facilities," said Bermudez. "In case of a serious head trauma, we would rely on them to medevac our patients to that facility. We need to make sure we maintain open lines of communication in the event that we need to draw upon their services, to include a head injury or any injury where the patient would not survive a flight to Germany."
AKUH accepts medical evacuations from the militaries of several countries, including the U.S., United Kingdom and Germany. The U.S. has utilized the medical evacuation services eight times over the last year, and that number is expected to increase, according to U.S. Army Maj. Lakesha Williams, public health nurse for the 403rd Civil Affairs Battalion, assigned to CJTF-HOA.
"We always hope that it won't be necessary, but accidents happen in the field and we need to rely on the services of (AKUH) to be there for such a situation," said Williams. "We rely on Kenya and our other African partners while overseas, and we always want them to know how much we appreciate them allowing us to use their facilities and expertise when we need them."
"Hopefully we don't need to utilize them much, but I think it sets all our minds at ease that they are available to us should we ever need them," said Williams. "Our partnership is solid."