Welcome to F.I.E.L.D.- the First Ismaili Electronic Library and Database.
Address by the Mayor of Porto during Presentation of the Keys to the City to Hazar Imam
Posted May 3rd, 2019 by librarian-hd
Date:
Thursday, 2019, May 2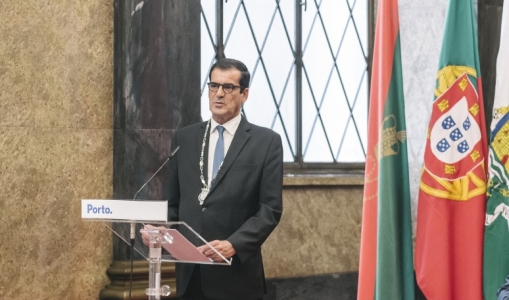 Your Highness, the Prince Aga Khan,
Prince Amyn Aga Khan,
President of the Porto Municipal Assembly,
Councillors, other elected representatives,
Commander Nazim Ahmad, Diplomatic Representative of the Ismaili Imamat in Portugal,
All other members of the delegation of His Highness the Aga Khan,
Members of the Parliament of the Consular Corps, civil, military, and the religious authorities,
Ladies and gentlemen,
Your Highness, your presence today in the Porto city is, for us, a moment of joy, not only for us who are here gathered together, but for the city.
Of course it is a very meaningful, meaningful visit on the special occasion of the gift to the Soares dos Reis Museum of the painting, the presentation of the Virgin Mary, which we just witnessed, and we applaud, and we thank the Prince as well.
But obviously it's much more than that. It is, for us, a moment of joy because we all respect very much what you have been doing for the world, for peace, for understanding, for tolerance. We believe, in this city, that tolerance is the key factor for the future. It is through tolerance that we will be able to live in a better planet, if at the same time we are able to look after it.
But all this is only possible through mutual understanding, we can't do it by force. Trying to figure, force is certainly not the solution. The solution is through culture because it is through culture that we understand each other. Culture is undoubtedly the cement that unites people, that makes people — different people with different political views, with different religions, with different understanding — melt together. Culture is the ultimate cement that will bring us a better future, that will give us the possibility to look ahead and to leave something for our children and grandchildren of which we can be proud.
Your Highness, for generations we have appreciated your contribution, not only to Portugal, but also to Europe, to the world, because you have believed in the construction of a better society. That's ultimately such an important goal that your presence here today is, for us, an extraordinary moment. It is clear that the gesture that you made today to the city is an opening for new channels of dialogue between us and we believe this will also help a lot of people understand that traditions and cultures are something that will develop the world. It is not a coincidence certainly that the painting we have just seen — it is in fact a religious painting — but it should be seen exactly as a sign of tolerance, as a sign of understanding, as a sign of the values that you have honoured so much during your life.
I must also leave a note to Prince Amyn Aga Khan because we know how much you have done for culture, how much you enjoy culture, how much you have cherished culture, and this is for us also a great moment to have you here. I'm announcing today that I will propose to the council of the City of Porto that in July, we will invite you to receive the Medal of Honour of the city for your extraordinary contribution to heritage in Europe, in the world, and because you're a person of the arts and this is a city which values very much this heritage.
But today of course is a special day, we have here with us His Highness the Aga Khan and we have decided to award you the Keys of the City. This is a city that never surrenders. We are the invictus. So we are not surrendering the city to you, but we are honouring you with the city keys, which means, traditionally, that from today you are one of us, you are a citizen of Porto, so I hope that you will accept this gift of the city.
Thank you very much.