Welcome to F.I.E.L.D.- the First Ismaili Electronic Library and Database.
Speech by Princess Zahra Aga Khan at the Opening of the phase II expansion of the Aga Khan Hospital, Dar es Salaam 2019-03-09
Posted March 9th, 2019 by librarian-ld
Date:
Saturday, 2019, March 9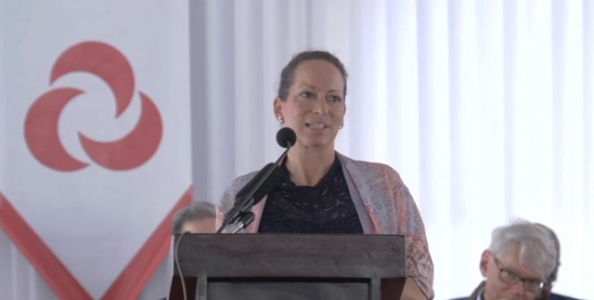 Your Excellency Honorable Kassim Majaliwa, Prime Minister of the United Republic of Tanzania
Honourable Ummy Ally Mwalimu, Hon. Minister of Health, Community Development, Gender, Elderly and Children, the United Republic of Tanzania
Ambassador Clavier,
Mr Christian Yoka, Regional Director, Agence Francaise de Developpement
Distinguished Guests, Ladies, Gentlemen and Friends
Today is indeed a momentous day for the Aga Khan Development Network as we celebrate the inauguration of the Phase II expansion of the Aga Khan Hospital, Dar es Salaam.
Other pressing engagements have kept my father, His Highness the Aga Khan away today but he asked me to carry with me his congratulations, his gratitude to President Magafuli, Prime Minister Majaliwa and to the Government of Tanzania for helping us to construct this state-of-the-art facility in Dar es Salaam.
The Aga Khan Development Network has now been in Tanzania for over 100 years and works in many sectors of economic and social and cultural development across the country. Indeed, the original building on this site was built in 1964. I think it's a testimony to the long history of the Aga Khan Development Network and the long partnership between the Government of Tanzania and the institutions of the network.
Your Excellency, Prime Minister, thank you so much for accepting to be our guest of honour at today's celebration. Thank you also Honourable Minister for all the wonderful support that your Ministry provides to the Aga Khan Health Service, Tanzania, which enables us to continue with our mandate of providing quality care and community health initiatives across 11 regions of the country.
We are delighted to have been able to construct this facility and to expand the Aga Khan Hospital, however, the real value lies in the project, in the clinical programmes. These will supplement the efforts of the Government of Tanzania, and working with the public health system will develop a robust capacity to see that many Tanzanians receive advanced trainings in this institution. In advance of this project, Aga Khan Health Services ensure that many of our colleagues and staff are trained overseas to be able to provide the technological complex health care which is provided now in the Phase II building we are opening today. I am pleased to say, thanks to that, today, the hospital employs some of the most qualified and competent human resources, supplemented by world-class technical expertise, and that this hospital will offer specialised programmes in cardiology, oncology, neurosciences, advanced critical care diagnostics as well as responding to the increasing burden of non-communicable diseases in Tanzania. These services come in addition to our traditional key focus areas of maternal, neonatal and child health, which have also been strengthened as a result of this expansion, the Phase II building. I am delighted that this advanced facility will allow all Tanzanians to receive world-class treatment at home and therefore reversing the need for medical tourism abroad and hopefully encouraging medical tourism within the region.
As you heard already, this Phase 2 expansion was part funded by Agence Française de Développement. A partnership between AFD and the Aga Khan Development Network which extends to many countries around the world and many sectors and we remain extremely grateful to AFD for their extensive and continuous support. Please could I ask Mr. Christian Yoka on our behalf, to convey our appreciation to Mr. Remy Rioux the CEO of AFD who has been here and visited this project before it was inaugurated.
The Aga Khan Development Network and Aga Khan Health Services is a leading not-for-profit health care operations working in 12 different countries, operating 20 hospitals and nearly 500 health centres that provide quality health care to more than five million patients a year working closely with government and other institutions in areas of service delivery, population health, capacity building and cross cutting themes, medical and nursing education, digital health, health care financing and quality of care development.
This hospital was internationally recognized in 2016 with the Joint Commission International, the first hospital in Tanzania and only the second one in East Africa, after the Aga Khan University Hospital in Nairobi, to get this distinction of quality of care.
With this quality assurance and in keeping with the growing need for specialised quality care in East Africa and Tanzania, AKHS embarked on this TZ Shillings 192 Billion (equivalent to US$ 83.5 million) expansion of the Hospital, but, also as Mr. Yoka said, expansion of outreach centres that span across Tanzania. We hope that this expansion, working with these outreach centres, government centres and government hospitals, training nurses and doctors for the country, will have an impact far outside Dar es Salaam.
I would like to express my heartfelt gratitude to all those who were involved in planning and constructing this ultra-modern hospital, especially the Project Team, the architects, the contractors, the engineers and all of the professionals who made this a reality. Also, thanks to the staff who put up with the construction, to the patients who survived the noise and the dust and to all those who were involved in making this project a reality.
Asante Sana!