Welcome to F.I.E.L.D.- the First Ismaili Electronic Library and Database.
Aga Khan partners with government to support education 2019-02-24
Posted February 24th, 2019 by librarian-hd
Date:
Sunday, 2019, February 24
Source:
Daily Monitor, Uganda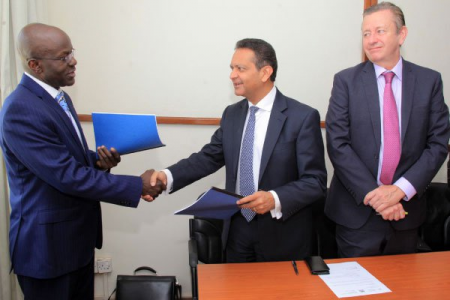 The Aga Khan Development Network (AKDN) has signed a memorandum of understanding (MoU) with the Ministry of Education and Sports to support core areas of the ministry.
The MoU, signed on Friday at the ministry offices in Kampala, will allow AKDN to offer support in early childhood development, teacher training and development, school management, information and communication technology, curriculum and broader policy engagement.
Also, the development agency will help train Ministry of Education officials on cross-cutting issues, including gender, special needs education, Kiswahili, guidance and counselling, HIV/Aids, environment and sports.
Ambassador Amin Mawji, the resident representative of AKDN in Uganda, said the support is aimed at transforming the education sector and the development of Uganda.
"We are living in a world where our children are influenced by many sources of information and yet when they leave school, they are thirsty for knowledge, wisdom and skills. The challenge we face collectively, is not the question of delivering information, but delivery of education of the right quality," Ambassador Mawji said.
He said AKDN is supportive of the national curriculum and that 65 per cent of the curriculum taught at the Aga Khan schools is local, with only 35 per cent foreign content.
"We are very committed to supporting the national curriculum because we see that as part of the contribution we can make to the country's development," he added.
Mr Alex Kakooza, the permanent secretary, Ministry of Education and Sports, warmed up to AKDN support, saying it is timely and will help tackle different challenges facing the Education sector. "We especially value the areas you are engaged in because when we talk about early childhood, we know as a sector this is the foundation and there is evidence that children who attend early childhood, do not repeat classes. Any effort that improves early childhood development in this country is very welcome," Mr Kakooza said.
He was optimistic that the five-year MoU, subject to revision, will help check school dropouts.
An analysis by this newspaper of the 2018 Primary Leaving Examinations released early last month, show that less than half of nearly two million children who enrolled in Primary One in 2010, completed their primary education cycle.