Welcome to F.I.E.L.D.- the First Ismaili Electronic Library and Database.
Tomb of Rahim Khan-i-Khanan to be restored
Posted February 6th, 2019 by librarian-hd
Date:
Friday, 2014, November 14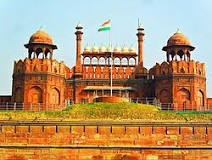 New Delhi: InterGlobe Foundation and the Aga Khan Trust for Culture (AKTC) Tuesday announced they would collaborate to conserve and restore Abdul Rahim Khan-i-Khanan's tomb in the capital.
Popularly known as Rahim and immortalized through his dohas's or couplets, Rahim was amongst the most important ministers in Akbar's court. He was one of the Navratnas and continued to serve Salim after his accession to the throne as Emperor Jahangir.
The tomb sits prominently along the Mathura Road, formerly the Mughul Grand Trunk Road, and is in close proximity to the Dargah of Hazrat Nizammudin Auliya and Humayun's Tomb in South Delhi.
The InterGlobe Foundation is the philanthropic arm of InterGlobe, a leader in aviation, hospitality and travel services. Khan-i-Khanan's tomb is as of now owned and protected by the Archaeological Survey of India.
The project, spread over three years, under the guidance and control of the Archaeological Survey of India, is proposed to include not only the conservation of the monument but also a compilation of Rahim's literary works, a release said here.
It will also enhance an understanding of the tomb structure and its setting, thus allowing scholars to interpret its influence on the construction of the Taj Mahal as well as justify its inclusion within the extended Humayun's Tomb World Heritage Site.
An important part of the project will be the craft-based approach ensuring a revival of craft skills and creating employment for craftsmen.
Stone carvers, masons, plasterers all will work together to halt the deterioration process and ensure long-term preservation. It is expected that at least 250,000 man days of work - directly and indirectly - will be required to complete this assignment, the release added.
Rahul Bhatia, InterGlobe's Group managing director, said: "India's heritage lives through its rich architecture, culture and crafts. We have countless monuments, different art forms and traditions but these are fading over time. Through this initiative with the Aga Khan Trust for Culture, we hope to be part of the conservation efforts and preserve the legacy of
Rahim."
Abdul Rahim Khan-I-Khana was born in December 1556 in Lahore