Welcome to F.I.E.L.D.- the First Ismaili Electronic Library and Database.
New pavilion to be added to the Aga Khan Garden 2018-10-15
Posted October 16th, 2018 by librarian-hd
Date:
Monday, 2018, October 15
Source:
www.thegatewayonline.ca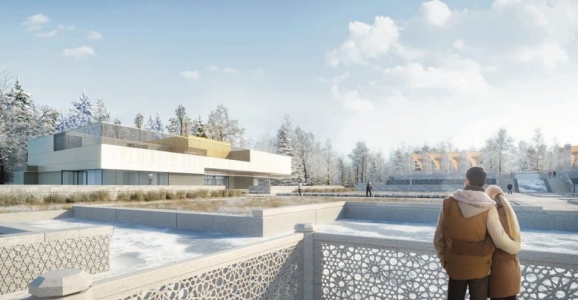 The University of Alberta is hoping to raise $4 million in order to build a new pavilion at the Aga Khan Garden.
On September 27, plans for the Aga Khan Garden Pavilion were outlined in a presentation at the General Faculties Council Facilities Development Committee. The pavilion will be a two-floor, 600 square metre, multipurpose gathering space that will support the University of Alberta Botanic Garden's (UABG) activities. A completion date for the pavilion has not been set.
The Aga Khan Garden opened in June and is the first Islamic garden to open in Western Canada. The $25-million garden was donated by the Aga Khan, who leads the second-largest Shia branch of Islam. While the pavilion was always intended to be part of the garden complex, it has not been built yet since it was not apart of the original donation.
The pavilion will have a small kitchen, bathrooms, an upper viewing terrace, as well as event security in case of bad weather. It will be open to any patrons visiting the garden when no events are happening. Any revenues generated by the pavilion will go back to supporting UABG programming and operations.
Kelly Hopkin, manager of campus architecture, said he is excited to see the next part of the garden come to life.
"The setting of the pavilion is inextricably linked to the garden," Hopkin said. "This pavilion will truly enhance the cultural asset that the Aga Khan Garden has already become."
Including construction, the pavilion will cost around $4 million. The entire project will be financed through donations.
"The fundraising is ongoing," Hopkin said. "It is going well, but we have not achieved our goals yet."
Hopkin said the pavilion is designed to be multi-faceted, allowing it to hold multiple events at the same time. He added that when a private function is happening, the pavilion is separated enough from the garden that it will not disrupt visitors.
Hopkin added that extensive research by the faculty of agricultural, life, and environmental science and architects was taken to ensure that the new structure will fit with the overall setting of the garden while incorporating architectural elements common to other historical Islamic gardens.
"While only a small space, [the pavilion] completes what the garden is trying to do," Hopkin said.