Welcome to F.I.E.L.D.- the First Ismaili Electronic Library and Database.
President lauds Aga Khan's contribution for uplift of underprivileged communities across world
Posted September 27th, 2018 by librarian-hd
Date:
Thursday, 2018, September 27
Source:
www.brecorder.com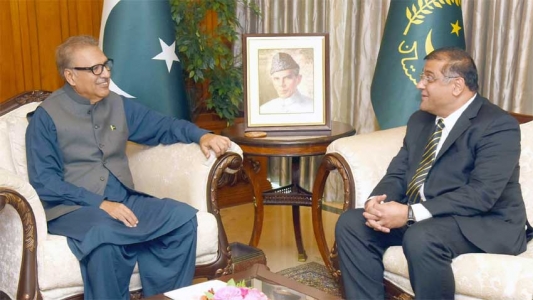 ISLAMABAD: President Dr. Arif Alvi said Prince Karim Aga Khan's vision and untiring efforts in promoting global peace, inter-faith dialogue, cultural diversity and pluralism had contributed towards the development and uplift of economically disadvantaged communities across the world.
He said this in a meeting with President of the Aga Khan Council for Pakistan Hafiz Sherali who called on him to deliver a letter from Prince Karim Aga Khan.
In his message, Prince Karim Aga Khan congratulated President Dr Alvi on his election and also highlighted the continued partnership and collaboration between Pakistan and Aga Khan Development Network (AKDN) to improve the quality of life of the people.
President Dr Arif Alvi said AKDN in rendering commendable services in the field of education, health and rural development in various parts of the country.
He appreciated the services of Aga Khan Foundation during 2005 Earthquake and said Aga Khan's grandfather Sir Sultan Shah Aga Khan was a very close companion of Father of the Nation Quaid-e-Azam Ali Jinnah who and played a very important role in Pakistan Movement.
Hafiz Sherali also briefed the president about activities of AKDN in Pakistan.