Welcome to F.I.E.L.D.- the First Ismaili Electronic Library and Database.
Georgia's Governor Deal presents His Highness the Aga Khan with Proclamation on the occasion of his Diamond Jubilee 2018-03-14
Posted March 16th, 2018 by librarian-hd
in
Date:
Wednesday, 2018, March 14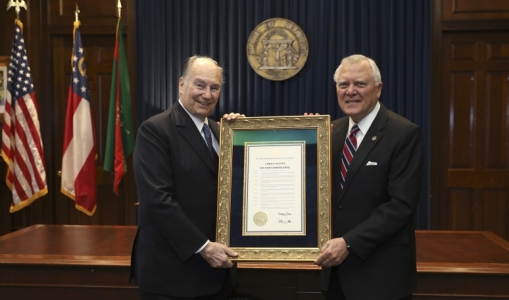 For 60 years, the Aga Khan has demonstrated a longstanding commitment to improving the human condition for the betterment of individuals and the advancement of societies around the world."
Atlanta, USA, 14 March 2018 - Georgia's Governor Nathan Deal today presented His Highness the Aga Khan with a State Proclamation recognising his 60 years of dedication and inspiration towards improving human condition around the world. Governor Deal welcomed His Highness to Georgia on the occasion of his Diamond Jubilee – 60th anniversary – as Imam (Spiritual Leader) of the world's Shia Ismaili Muslim community.
The presentation was made at a meeting held at the Georgia State Capitol attended by Chief of Staff Chris Riley and Abby Turano, Deputy Commissioner for International Relations, Georgia Department of Economic Development. Upon his arrival, His Highness was received by the Honorable Brian Kemp, Secretary of State for the State of Georgia.
The Governor congratulated His Highness for his profound vision and leadership over the past sixty years. They discussed a shared vision of improving the quality of life for all people by promoting early childhood development, planning for the future, and creating opportunities for economic growth. They also discussed areas of partnership around research in vocational education, healthcare and agriculture as well as best practices in student and faculty exchange.
In the context of his hereditary responsibilities, His Highness has been deeply engaged with the development of countries around the world through the work of the Aga Khan Development Network. The Shia Ismaili Muslim community, inspired by His Highness, actively contributes to the wellbeing of all citizens and community service initiatives in Georgia.
His Highness has, over the last six decades, received numerous decorations, honorary degrees, and awards from institutions and nations across the world. Most recently, in 2017, the Aga Khan received four prestigious honors in the United States: the Foreign Policy Association Medal; the President's Medal by the Architectural League of New York; the Champion for Global Change Award by United Nations Foundation; and the Asia Game Changer Lifetime Achievement Award by the Asia Society.
Media resources are available at www.akdn.org/USAvisit
For more information, please contact:
Semin Abdulla
Communications Manager
Aga Khan Development Network
Gouvieux France
60270