Welcome to F.I.E.L.D.- the First Ismaili Electronic Library and Database.
The Queen dazzles in a fuchsia ball gown as she holds a glittering reception to celebrate the Aga Khan's Diamond jubilee
Posted March 8th, 2018 by librarian-hd
in
Date:
Wednesday, 2018, March 7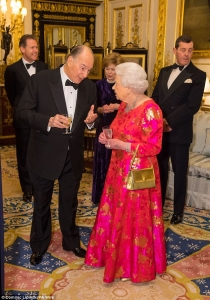 e are used to seeing Her Royal Majesty in a uniform of conservative suits, but tonight she delighted royal fans as she slipped into a dazzling ballgown.
The Queen welcomed dignitaries to Windsor Castle for a glittering reception on Wednesday evening, and did so in a hot pink dress.
The 91-year-old monarch looked elegant in a floor-length gown silk gown complete with gold motifs as she welcomed guests to the White Drawing Room.
The event was held in celebration of the Diamond jubilee of the the Aga Khan's leadership as Imam of the Shia Ismaili Muslim Community.
Following the drinks reception the monarch will host the royal at a private dinner at the castle.
Guests at this evening's reception included the Duchess of Cornwall, although the Prince of Wales was not in attendance.
Camilla looked her elegant best in a floor-length black velvet dress as she spent time chatting with the Queen and her guests.
Her daughter Princess Anne could also be seen in attendance, dressed in a glamorous green ensemble.
Princess Salwa Aga, the Aga Khan's daughter-in-law also demanded attention in a stunning dove grey satin gown with bejeweled embellishment.
The Aga Khan, spiritual leader of the Ismaili branch of Shiite Islam, opened a yearlong jubilee to mark his 60th anniversary in July last year.
Among Muslim leaders, the Aga Khan holds a unique position. The community he leads as 'imam' is not large - around 20 million adherents, compared to the estimates of several hundred million followers of Shiism's main branch, known as the 'Twelvers.' Sunnis make up the majority of the approximately 1.5 billion Muslims around the world.
Throughout the Diamond Jubilee year, the Aga Khan will travel to countries where the network operates to launch new programs to alleviate poverty and increase access to financing for housing, education and childhood development, the network said.