Welcome to F.I.E.L.D.- the First Ismaili Electronic Library and Database.
Aga Khan receives honoris causa PhD from New University of Lisbon
Posted July 20th, 2017 by librarian-hd
Date:
Thursday, 2017, July 20
Source:
clubofmozambique.com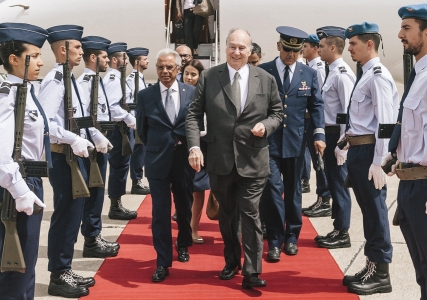 The leader of the Ismaili community, Prince Aga Khan, is to receive the title of Doctor Honoris Causa from the New University of Lisbon today, with the Portuguese president and the former prime minister Pinto Balsemão in attendance.
The distinction will be bestowed by New University António Rendas as part of the Aga Khan's Diamond Jubilee of his 60 years as a hereditary imam (spiritual leader) of the Shia Ismaili Muslim community.
"Over the last few decades, the Aga Khan has transformed the quality of life of millions of people around the world. In the areas of health, education, cultural revitalization and economic empowerment, he has worked to inspire excellence and improve living conditions and opportunities in the most remote and problematic regions of the world," a statement from the Aga Khan Foundation says, recalling that Portugal was the country chosen to host the world headquarters of the Ismaili Imamate.
Aga Khan is the 49th spiritual leader since 1957of the Ismaili Muslims and the founder and chairman of the Aga Khan Development Network, "one of the largest private development agencies in the world".
The network operates in more than 30 developing countries and employs more than 80,000 people. It has been present in
Portugal for several decades, mainly through the Aga Khan Foundation, which works mainly in the areas of education and childhood and support for social and economic inclusion.
The Ismaili community live in a great diversity of cultures, mostly in Central Asia, the Middle East, South Asia, sub-Saharan Africa, Europe and North America. In Europe, the largest communities live in Britain, France and Portugal, where there are about 7,000 people, many of whom left Mozambique in the 1970s.
Aga Khan has received several Portuguese honorary titles, such as the Grand Cross of the Order of Prince Henry the Great, the Grand Cross of the Order of Merit and the Grand Cross of the Military Order of Christ.
In 2006, he received an honorary doctorate from the University of Évora.
Source: Lusa