Welcome to F.I.E.L.D.- the First Ismaili Electronic Library and Database.
Aga Khan Foundation pulls out support for Zanzibar Government 2012-04-03
Posted January 20th, 2016 by librarian-hd
Date:
Tuesday, 2012, April 3
Source:
eTN Global Travel Industry News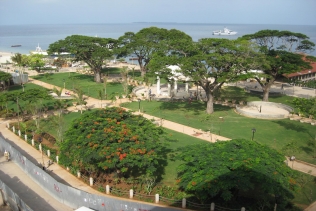 Zanzibar gets new Tourism Minister
Apolinari Tairo, eTN Tanzania Apr 03, 2012
(eTN) – The spice and tourist island of Zanzibar has got a new Tourism Minister after a cabinent reshuffle announced Tuesday by the isle's President, Ali Mohammed Shein.
Mr. Said Ali Mbarouk has been appointed the Minister responsible for tourism, information, culture, and sports, taking over from Mr. Abillah Jihad Hassan, who held this ministeral portfolio for the past two years.
The appointment of the new Tourism Minister was announced at the time that tourist stakeholders are questioning the Zanzibar government about its position on conservation of the Stone Town, the cultural and historical site, which has been neglected after the Aga Khan Foundation pulled out its funds once planned for the conservation of the area.
The Aga Khan Foundation, which funded the conservation project to protect the historical area of the Stone Town and which is famous for tourism and cultural interactions, pulled out its support to the Zanzibar government over poor relations between the two sides.
Other than the tourist area, including the sea front development, the Aga Khan Foundation stopped all government-registered projects, including the construction of a sea barrier at the sea front to prevent sea erosion threatening the nearby buildings and the road near the sea side.
The foundation also planned to support establishment in Zanzibar, a maritime museum for East Africa.
Tourism in Zanzibar has been growing rapidly in recent years, thus providing employment opportunities for citizens, especially the youth, and boosting the economy.
The Zanzibar Commission for Tourism's Executive Director, Ali Mizra, attributed the achievements to the improvement of road infrastructure, airport services, and construction of modern hotels.
He said, in 1987, Zanzibar had 94 tourist hotels only, but to date, the number had gone up to 141 hotels.
He further said the increase of hotels had automatically brought an increase in the number of tourists, as last year the island received at least 175,067 compared to 19,368 tourists in the past 25 years.
Zanzibar is now probably leading in cultural tourism in East Africa and gets tourists from many countries like Italy, the United Kingdom, and the Far East.
The island has been a target for high-class tourists, competing closely with other Indian Ocean island destinations, such as Seychelles, Mauritius, and Maldives. After the fall of clove prices before the global markets, Zanzibar had resorted to tourism as an optional economic gain for its development.
Rich cultures and old Arabic architecture pull thousands of tourists to the island each year, bringing balanced competition with other coastal towns along the Indian Ocean.