Welcome to F.I.E.L.D.- the First Ismaili Electronic Library and Database.
Aga Khan meets Zanzibar president - THE AGA KHAN MEETS ZANZIBAR'S PRESIDENT - 2001-08-20
Posted July 9th, 2009 by heritage
Date:
Monday, 2001, August 20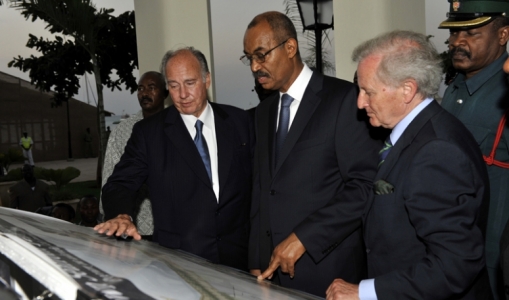 Consideration of the marine and maritime dimensions of Zanzibar's history and culture, broader tourism opportunities and major education projects were among the expanded development initiatives agreed by the Aga Khan, during a three-day visit to Tanzania.
In meetings with Zanzibar President Amani Abeid Karume and Chief Minister Shamsi Vuai Nahodha, the Aga Khan explored various cultural and economic development possibilities relating to the marine and maritime aspects of the island's history.
Recently recognized as a World Heritage Site by UNESCO, Zanzibar's Stone Town has suffered considerable decay, although some preliminary efforts to conserve and restore a few specific buildings commenced in the late 1980s in the context of broader development endeavours.
Pre-eminent amongst these were a number of major development initiatives successfully launched by the Aga Khan Development Network (AKDN) following the signing of a Protocol of Cooperation for Development between the AKDN and the government of Zanzibar in 1988.-AFP