Welcome to F.I.E.L.D.- the First Ismaili Electronic Library and Database.
Thank you for letting me visit the Taj Mahal, says Aga Khan 2015-04-09
Posted April 10th, 2015 by librarian-hd
Date:
Thursday, 2015, April 9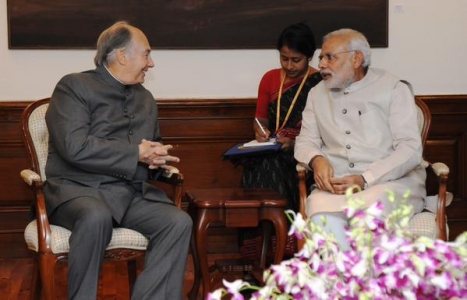 Spiritual leader of Ismaili sect Prince Karim Al Hussaini Aga Khan visited the Taj Mahal on Wednesday. Following the visit, he commented "Thank you for letting me visit the Taj for the second time." He wrote the same comment in the monument's visitors' book.
Aga Khan is the leader of Ismaili sect spread all over the world. The sect has over 1 crore followers. A member of the Forbes Top-10 list, Aga Khan is the founder of Aga Khan Development Foundation Group that provides financial assistance to commercial establishments that are deemed worthy of the trust's help. Apart from businesses, the trust is also active in the field of culture and heritage.
A member of the Aga Khan's team told India Today that the trust has recently given financial assistance to the ministry of culture for the Museum of Humayun's Tomb in New Delhi. The trust is also keen on assisting in the conservation of the Taj Mahal and developing tourism-centric facilities here, for which the trust is in contact with the Culture Ministry.
Aga Khan is in India to receive the Padma Vibhushan award bestowed upon him by the Government of India. Agra is one of the few remaining strongholds of Ismaili sect with one of the only two 'Jamatkhanas' of Uttar Pradesh being in Agra. There are about 100 families of Ismaili sect in Agra, the numbers slowly dwindling with time.