Welcome to F.I.E.L.D.- the First Ismaili Electronic Library and Database.
Aga Khan Receives India's Padma Vibhushan Award 2015-04-08
Posted April 8th, 2015 by librarian-hd
Date:
Wednesday, 2015, April 8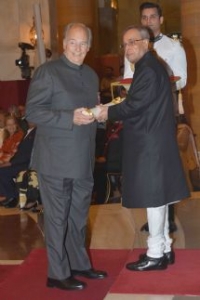 New Delhi, India, 8 April, 2015 –His Excellency Pranab Mukherjee, President of India, today awarded His Highness the Aga Khan the Padma Vibhushan, one of the country's highest civilian decorations, for his contributions to social development in India.
The award, which was bestowed at the Rashtrapati Bhavan in New Delhi as part of the commemoration of India's 66th Republic Day, was also awarded to actor Amitabh Bhachchan, philanthropist Dr. D. Veerendra Heggade and renowned nuclear scientist, Malur Ramasamy Srinivasan, amongst others.
His Highness the Aga Khan receiving the Padma Vibhushan Award from President Pranab Mukherjee of India. Photo: AKDN
His Highness the Aga Khan receiving the Padma Vibhushan Award from President Pranab Mukherjee of India.
Photo: AKDN
Instituted in 1954, the Padma Awards recognise individual achievements in a wide range of disciplines as well as a recipient's commitment to public service. The Awards comprise three levels of recognition: Padma Shri is awarded for distinguished service; Padma Bhushan is for distinguished service of a high order; and Padma Vibhushan recognises exceptional and distinguished service.
The Ismaili Imamat and the Aga Khan Development Network (AKDN) have a long and historic relationship with India, dating back 100 years to the first Aga Khan School in Mundra, Gujarat, which was established by the Aga Khan's grandfather, Sir Sultan Mahomed Shah, in 1905.
Today, AKDN institutions work in close partnership with governments and communities to address a broad spectrum of development priorities in the country, including cultural revitalisation, education, health care, drinking water and sanitation, rural development and access to finance for poor communities.
These initiatives include rural support programmes in over 2,500 villages, the creation of 6,600 community institutions, urban and rural education programmes working with over 400 schools, a comprehensive sanitation initiative in six states, the Aga Khan Academy in Hyderabad, and a 161-bed multi-specialty acute care hospital in Mumbai.
Yesterday, the Aga Khan and Minister for Culture, Mahesh Sharma, presided over the foundation stone-laying ceremony for the new Site Museum at the Humayun Tomb complex in Delhi. The Site Museum is designed to enhance the experience of visitors coming to the Humayun's Tomb-Sundar Nursery-Nizamuddin Basti world heritage site, allowing them to learn more about India's Mughal heritage, the development of the Nizamuddin area and the Sufi cultural traditions that defined Hindustani culture for five centuries.
The Site Museum is part of over a decade of pioneering cultural revitalisation and socioeconomic development projects undertaken by the Aga Khan Trust for Culture at the Humayun's Tomb and, more recently, at the Qutb Shahi Heritage Park in Hyderabad.
The Aga Khan is in India on a week-long official visit.
For more information on other awards the Aga Khan has received, please see the AKDN website: http://www.akdn.org/about_honours.asp
or please contact:
Zeenat Lakhani
+91 9867306427
or Internationally
Semin Abdulla
Aga Khan Development Network
---------------------------------------------------------------------------------------------------------------------------------------------------------------
From Wikipedia, the free encyclopedia
The Padma Vibhushan is the second highest civilian award in the Republic of India. It consists of a medal and a citation and is awarded by the President of India. It was established on 2 January 1954. It ranks behind the Bharat Ratna and comes before the Padma Bhushan and Padma Shri. It is awarded to recognize exceptional and distinguished service to the nation in any field, including government service. The first recipients of this award were Satyendra Nath Bose, Nand Lal Bose, Zakir Hussain, Balasaheb Gangadhar Kher, Jigme Dorji Wangchuk, and V. K. Krishna Menon in the year 1954.
The first highest is Padma Ratan