Welcome to F.I.E.L.D.- the First Ismaili Electronic Library and Database.
BIRTHDAY: His Highness Prince Karim Aga Khan feted by B.C. premier, Ismaili community
Posted February 23rd, 2013 by librarian-hd
Date:
Thursday, 2012, December 13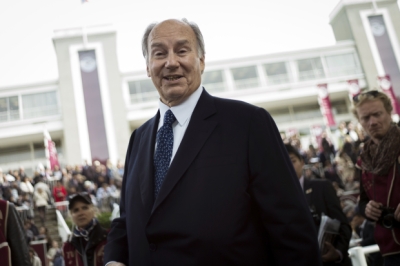 The Ismaili community across British Columbia will gather for a prayer Thursday evening to recognize His Highness Prince Karim Aga Khan's 76th birthday.
"It's a very important time for everyone to celebrate and reflect on the vast work that His Highness has undertaken around the world," said Ali Solehdin, a volunteer from within the Ismaili community.
The now 76-year-old Ismaili spiritual leader is believed to be a direct descendant of Prophet Muhammad and is the 49th Imam of the Ismailis. He's developed the Aga Khan Development Network, which has helped numerous people in developing parts of the world as well as the Aga Khan Foundation Canada.
It's already been a memorable year for the Ismaili community as they recognized 40 years in Canada since they were expelled from Uganda in 1972.
Honourary Counsel of Uganda, John Halani, attributes much of B.C.'s multiculturalism to the Aga Khan's work.
"Forty years ago he did meet the Prime Minister of Canada (so) people from Uganda (could) come here," he said. "That's how we all came down to settle in Canada – partly because of him."
If he hadn't have paved the way, Halani may not be in Canada today.
And since their arrival, His Highness has provided guidance.
"We appreciate the guidance that he has given to the community," he said. "A lot of advice that he gives to us is to be involved in the community and involved in the face of the province, of the country."
Premier Christy Clark also extended her best wishes as well.
"In one of the most diverse provinces in one of the most diverse countries in the world, the Aga Khan has provided real leadership, and an example of the difference kindness, generosity, and tolerance can make," Clark said in a release. "I know I speak on behalf of all British Columbians when I thank His Highness for everything he has done, and join with the Ismaili community in wishing His Highness a very happy birthday."
An evening prayer will be held in his honour in many community centres and jamatkhanas Thursday night.