Huguette Labelle
Posted October 9th, 2010 by heritage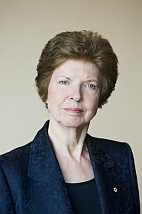 Dr. Huguette Labelle is a member of the first board of directors of the Global Centre for Pluralism.
Dr. Huguette Labelle, Canada - Appointed Chancellor of the University of Ottawa in 1994, Dr. Huguette Labelle holds a doctor of philosophy degree from the University of Ottawa, and has honorary degrees from a number of Canadian universities. Dr. Labelle was president of the Canadian International Development Agency from 1993 to 1999. From 1973 to 1993 she held several senior positions within government. Among other activities, she chairs the board of Transparency International, is an external advisor to the Implementation of the World Bank Governance and Anti-Corruption Strategy and sits on the World Health Organization's Migration Technical Working Group. Dr. Labelle has been awarded the Companion to the Order of Canada for her work.
Texts for Huguette Labelle
Posted October 9th, 2010 by heritage
His Highness the Aga Khan, 49th Hereditary Imam of the Shia Ismaili Muslims and Founder and Chairman of the Aga Khan Development Network is in Ottawa on the occasion of the inaugural board meeting of the Global Centre for Pluralism. His Excellency the Right Honourable David Johnston, Governor General of Canada welcomed the Aga Khan in the Reception Room at Rideau Hall on Thursday, October 7, 2010, at 7 p.m.
Texts for Huguette Labelle