Kofi Annan
Posted October 9th, 2010 by heritage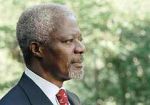 Kofi A. Annan is a member of the first board of directors of the Global Centre for Pluralism, Canada
Kofi A. Annan was the seventh Secretary-General of the United Nations, serving from 1997 to 2006. While at the UN Mr. Annan established the Peacebuilding Commission and played a central role in the creation of the Global Fund to fight AIDS, tuberculosis and malaria. He championed responsibility of states to protect people from genocide, war crimes, ethnic cleansing and crimes against humanity. Mr. Annan was awarded the 2001 Nobel Prize for Peace jointly with the United Nations. Since leaving the UN, Mr. Annan has continued to advocate for better policies to meet the needs of the poorest, particularly in Africa. Mr. Annan is the Chairman of the Kofi Annan Foundation.
Texts for Kofi Annan
Posted October 9th, 2010 by heritage
His Highness the Aga Khan, 49th Hereditary Imam of the Shia Ismaili Muslims and Founder and Chairman of the Aga Khan Development Network is in Ottawa on the occasion of the inaugural board meeting of the Global Centre for Pluralism. His Excellency the Right Honourable David Johnston, Governor General of Canada welcomed the Aga Khan in the Reception Room at Rideau Hall on Thursday, October 7, 2010, at 7 p.m.