Welcome to F.I.E.L.D.- the First Ismaili Electronic Library and Database.
Canada a fitting choice for Ismaili Imamat building – Prime Minister Stephen Harper - 2010-04-27
Posted April 30th, 2010 by heritage
Date:
Tuesday, 2010, April 27
Source:
Arusha Reunion Organizers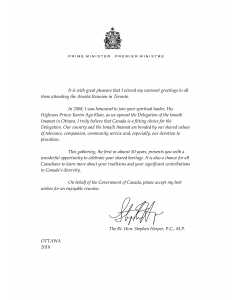 Prime Minister Stephen Harper says Canada and the Ismaili community are bonded by shared values of tolerance, compassion, community service and, especially devotion to pluralism.
His comments are contained in a special message to the Arusha Ismaili reunion taking place in Toronto from July 30 to August 1 this year.
The Canadian prime minister said he truly believes that Canada is a fitting choice for the Delegation of the Ismaili Imamat in Ottawa. Harper, with other government officials and diplomats joined His Highness the Aga Khan, the spiritual leader of the Ismaili Muslims, for the official opening of the Imamat building in Ottawa in 2008.
Extending greeting to all attending the reunion, Prime Minister Harper said the gathering, first in almost 50 years, presents everyone with a wonderful opportunity to celebrate shared heritage. "It is also a chance for all Canadians to learn more about your traditions and your significant contributions to Canada's diversity, Harper said.
Ontario Premier Dalton McGuinty, in his message, praised the Ismaili community for playing an important role in shaping the strong and dynamic society Canada enjoys today. A message has also been received from Toronto Mayor David Miller expressing his best wishes for an enjoyable reunion.
Sultan Jessa, chair of the reunion, said preparations are now in the final stages. "We expect around 300 people from around the world to attend this classy event," he said. Noor Gillani, another co-chair, said response from former Arusha residents has been beyond expectations. "My group has done a fantastic job in planning for the reunion," added Mohamed Lalani, the Toronto businessman in charge of planning and organizing.
The official Web site for the reunion will be officially launched soon.