Note: Audio is placed below the main text, when available.
Welcome to F.I.E.L.D.- the First Ismaili Electronic Library and Database.
President Nazarbayev, Prince Karim Aga Khan meet - 2008-10-29
Posted April 20th, 2010 by heritage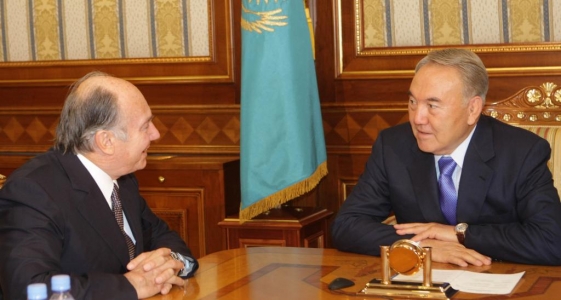 Date:
Wednesday, 2008, October 29
2008, October 29: President Nazarbayev, Prince Karim Aga Khan meet. ASTANA. October 29. KAZINFORM. /Aigul Tulekbayeva/ The AKDN plans to continue its cooperation with Kazakhstan. Prince Karim Aga Khan, arriving in Astana, said at a briefing. This visit opens his 10-day Central Asian tour. 'We discussed development of the Central Asian universities and issues regarding economic recession with the Kazakh President. I expressed hope for further cooperation with Kazakhstan in all spheres', the Prince said. The visit is being held in the framework of the gold jubilee - 50th anniversary of his inauguration. As the Kazakh MFA earlier reported, the visit aims at expansion of the Kazakh cooperation with the AKDN in the sphere of human resources, regional stability, promotion of pluralism and intercivilizational understanding. In the framework of the trip the Prince will visit Tekeli town of the Almaty oblast for laying the cornerstone of an affiliate of the Central Asian University. On October 31, Aga Khan IV will go to Tajikistan, then to Kyrgyzstan.