Welcome to F.I.E.L.D.- the First Ismaili Electronic Library and Database.
Press Release - AGA KHAN ATTENDS INAUGURATION OF PRESIDENT KARZAI</I> - 2004-12-07
Posted February 25th, 2010 by heritage
Date:
Tuesday, 2004, December 7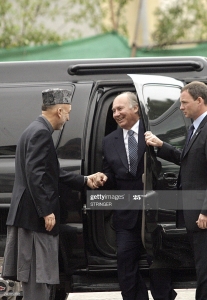 His Highness the Aga Khan, Imam (spiritual leader) of the Ismaili Muslims, today attended the official inauguration of Afghanistan?s President Hamid Karzai, in a ceremony held in the former royal palace in Kabul. The inauguration ceremony was attended by more than 600 people, including more than 150 foreign dignitaries, among them U.S Vice President Richard Cheney, Secretary of Defence Donald Rumsfeld and Lakhdar Brahimi, the U.N. Special Adviser.
The Aga Khan congratulated President Karzai, the country's first democratically elected leader, and pledged full support for the country?s peace process. During his visit, the Aga Khan was also hosted at a dinner by Former King Mohammad Zahir Shah, ?Father of the Nation?.
While in Afghanistan, the Aga Khan visited projects undertaken by the Aga Khan Development Network (AKDN), including the Bagh-e-Babur gardens. Since 2002, the Aga Khan Trust for Culture with support from the Afghan Ministry of Culture, UNESCO and the German government has led the project to redevelop the garden as a major public open space and to rehabilitate neighbourhood residential dwellings. The terraced and walled open space contains the tomb of the Emperor Babur and features the remains of what was the first Moghul ?Paradise Garden? in the region.
The Aga Khan also visited the construction site of the Kabul Serena Hotel, a project of the Aga Khan Fund for Economic Development. In addition to being Kabul?s first 5-star hotel, the investment will create employment and contribute to economic growth in the country.