Welcome to F.I.E.L.D.- the First Ismaili Electronic Library and Database.
Gulf Daily News with Photo - AGA KHAN ARRIVES IN BAHRAIN - 2003-12-08
Posted July 9th, 2009 by heritage
Date:
Monday, 2003, December 8
Source:
www.gulf-daily-news.com/Articles.asp?Article=68607&Sn=BNEW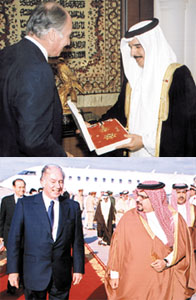 Aga Khan arrives in Bahrain The spiritual leader of the Ismaili Muslims, Prince Aga Khan, arrived in Bahrain yesterday on a two-day official visit during which he is expected to hold talks with His Majesty King Hamad bin Isa Al Khalifa and other senior Bahraini officials.
Prince Aga Khan is also expected to attend a number of presentations and visit sites relating to sectors of mutual interest for Bahrain and the Aga Khan Development Network, particularly in education, culture and financial services, according to a statement released yesterday.
The Ismailis constitute the second largest Shiite community in the Muslim world and are now scattered in more than 25 countries of Asia, Africa, Europe and America.
In the Arab world, they live mainly in Saudi Arabia and Lebanon. There are no Ismailis in Bahrain, except for a few dozen Indian expatriates who work in the kingdom.
Unlike other Muslims, the Ismailis have a central leader, usually referred to as the Aga Khan.