Welcome to F.I.E.L.D.- the First Ismaili Electronic Library and Database.
Gulf Daily News with Photo - AGA KHAN ARRIVES IN BAHRAIN - 2003-12-08
Posted July 9th, 2009 by heritage
Date:
Monday, 2003, December 8
Source:
www.gulf-daily-news.com/Articles.asp?Article=68607&Sn=BNEW Gulf Daily News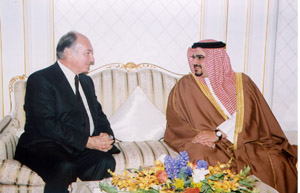 King receives the Aga Khan His Majesty King Hamad last night received at Rawdah Palace the spiritual leader of the Ismaili Muslims, the Aga Khan.
Also present was Crown Prince and BDF Commander-in-Chief Shaikh Salman bin Hamad Al Khalifa.
The King and the Aga Khan discussed the Ismaili leader's network of services in the education, health, construction, cultural and financial sectors.
They also exchanged views on issues of concern to the Muslim world.
His Majesty later decorated the Aga Khan with the Bahrain Medal (first class) and then hosted a dinner banquet in his honour.
The Crown Prince earlier received the Aga Khan when he arrived at Bahrain airport on a visit to the kingdom at the invitation of His Majesty King Hamad. A number of ministers and other officials were also present.