Welcome to F.I.E.L.D.- the First Ismaili Electronic Library and Database.
CIDA w/photo - H.H. THE AGA KHAN AT THE BERLIN CONFERENCE - 2004-03-31
Posted July 9th, 2009 by heritage
Date:
Wednesday, 2004, March 31
Source:
www.acdi-cida.gc.ca/cida_ind.nsf/vLUallDocByIDEn/2AA3D362E2C0B76585256E760066EC4B?OpenDocument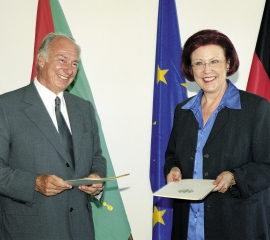 While attending the Berlin International Conference for Afghanistan, Minister Carroll met with the Aga Khan, Head of the Aga Khan Development Network. CIDA and the Aga Khan Foundation are partners in a variety of projects in Asia and Africa.