Welcome to F.I.E.L.D.- the First Ismaili Electronic Library and Database.
Restoration of 150-year-old Paigah Tombs begins; focus is also on making landscape attractive
Posted July 8th, 2019 by librarian-hd
Date:
Saturday, 2019, July 6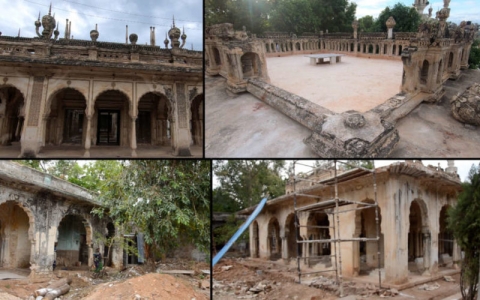 Hyderabad: Aga Khan Trust for Culture (AKTC) which is working on the restoration of Qutb Shahi Tombs has now taken up the renovation of Paigah Tombs, also known as the Taj Mahal of the Deccan.
The nearly 150-year-old necropolis is located near Santosh Nagar.
Paigah Nawabs were next only to the Nizams in military, political and economic power who ruled Hyderabad State from 1724 to 1948.
Though Paigah Tombs are part of the historical and architectural heritage of Hyderabad they have been lying in a state of neglect for several decades.
Looking at the impressive work being carried out by the AKTC at QSTs, the Telangana State Department of Archeology and Museums requested it to help out in restoring the world famous necropolis.
The Trust has mapped out the work at Paigah Tombs and began working on the landscape of the tombs so that the people who visit it would have a place to rest and enjoy the atmosphere.
Speaking to siasat.com, Ratish Nanda, CEO of AKTC said, "The first phase of the work involves landscape. We have begun to plant fruit and flower-bearing and other trees."
Taking the onset of monsoon into account the Trust has first ensured that the rains do not damage any further the building.
One of the pillars in the tomb area had fallen down. "We have restored it and also carried out waterproofing of the vulnerable parts of the tomb complex," he said.
Prashant Banerjee, Project Manager of AKTC, said, "The tombs have pairs of pillars with the inner core of stone exposed.
However, this is least of our worries. The pillars are structurally safe and carrying the load without any problem. Only the limestone has flaked off due to capillary action in which lime mortar slowly disintegrates."
he complex is spread over nearly two acres. The fine artistry of Paigah Tombs is shown in the mosaic tile inlaid work.
The patriarch of the Paigah family, Abdul Fateh Khan is popularly known as Nawab Tegh Jung was the first to be buried in the necropolis in 1786. The place later became the family Maqbara or graveyard.
A visitor to the tombs, Samuel Neil, a photographer by profession, is mighty impressed with its architectural dimensions. "The Paigah tombs are among the major wonders of Hyderabad. I'm glad that AKTC has taken up the work here. The government should provide sufficient amenities to visitors such as water and toilets," he said.
mohammedhussain.reporter@gmail.com