Welcome to F.I.E.L.D.- the First Ismaili Electronic Library and Database.
Speech at the All Nations Club of Calcutta (India) Dinner 1962-09-22
Posted February 24th, 2019 by librarian-hd
Date:
Saturday, 1962, September 22
Source:
SPEECHES BOOK II – PG 96 - 97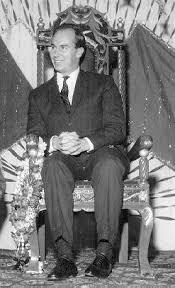 All Nations Club of Calcutta (India) gave a Dinner in Honour of His Royal Highness Prince Karim Al Hussaini Aga Khan on 22nd of September 1962.
His Excellency Shri Shanker Das Banarji, the Finance Minister of West Bengal (India) welcoming His Royal Highness, paid glowing tributes and said, "Your position, therefore, is that of a world citizen, who can make a large contribution towards creating goodwill among men, understanding and co-operation among nations.
His Royal Highness in his reply said, :
"Your Excellency, Ladies and Gentlemen:
Let me first of all thank the All Nations Club for this delicious and copious dinner and express my gratitude to His Excellency for his kind words about my late Grandfather. My Grandfather had such a personality and such vision that he left a mark on many of the people whom he met and with whom he worked; and even though I was only 20 when he left this worid, I doubt whether I have forgotten much about him. He was a guide to me all through my years at school and at university, and I can only hope that what I learnt from him will in due course show itself in my own work; this is a very high aspiration, and I am all too conscious of it.
You have talked, Your Excellency, about the crisis of the human spirit and the difficulties of reconciling the old ethical consciousness with the competitive and the aggressive approach which many of us have today. Being the leader of a community spread out through the Middle East, Asia and Africa, I have had a chance of seeing a number of different approaches to this problem and yet I cannot say that I have found anywhere that peace of mind and soul which would bear evidence that a full and comprehensive solution has been found and adopted.
In fact, I believe that with human mind we can go only so far and that thereafter we must leave the rest to time and the blessings of the Almighty. The crisis certainly exists, and I think that we should not be too ambitious in our aims. If I can contribute in a small way in stopping it from coming to a head during my life time, I will be satisfied and proud.
Here in India, you have many wise leaders who are constantly thinking about this problem, and I can only hope that my community in this country will through its peace loving nature, its cordial relations with the other communities and its loyalty to this country, help in some very small manner indeed, your leaders to achieve their goals.
I can assure you that this is not only a personal wish but also my community's.
Thank you.