Note: Audio is placed below the main text, when available.
Welcome to F.I.E.L.D.- the First Ismaili Electronic Library and Database.
His Highness The Aga Khan recognized as Champion for Global Change by UNA-USA and the United Nations Foundation 2017-09-12
Posted September 12th, 2017 by librarian-hd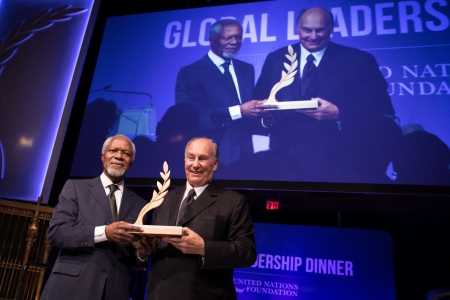 Date:
Tuesday, 2017, September 12
In recognition of the role individuals, organizations, and corporations play in supporting the work of the United Nations to advance global peace and prosperity, UNA-USA and the United Nations Foundation honor recipients of the Global Leadership Awards at the annual Global Leadership Dinner in New York City.
 
Recognized as one of New York's top events, the Global Leadership Dinner  is distinguished by A-list attendance representing the highest levels of the diplomatic, business, government, philanthropic, media, entertainment, and social sectors.
The Global Leadership Dinner is central to calling the world's attention to the work of the UN and supporting a peaceful, prosperous and just future. Proceeds benefit UNA-USA and its work to inform, educate, and inspire Americans in support of the UN.
2017 Global Leadership Dinner
Wednesday, October 18, 2017
Gotham Hall – 1356 Broadway, New York, NY
Cocktail Reception 6:30 pm
Dinner and Awards Presentation 7:00 pm
 
This year, we are especially privileged to recognize the following honorees:
His Highness the Aga Khan
Senator Bob Corker, Chairman, Senate Foreign Relations Committee
Ellie Goulding, Singer, Songwriter, and Record Producer
Grant F. Reid, CEO and President, Mars, Incorporated
Ms. Agnès Marcavillou, Director of the United Nations Mine Action Service
Recent Articles
Posted October 20th, 2017 by librarian-hd
Source:
pakistantoday.com.pk
NEW YORK: Upon receiving the 'Champion for Global Change' award at the United Nations Foundation's Global Leadership Dinner in New York, His Highness the Aga Khan suggested that the question was not whether government action or private enterprise was more effective, but rather how these sectors can become effective partners in the quest for development.
"The partnerships that will most dramatically change the world are those in which all three components—private, public and civil society institutions—can connect in all-embracing common efforts," he said.
Posted October 19th, 2017 by librarian-hd
October 18, 2017
Dear friends,
As the New York City Public Advocate, I am pleased to write this letter of sincere appreciation and warm wishes in recognition of His Highness the Aga Khan.
Posted October 19th, 2017 by librarian-hd
From the UNHCR Press Release:
Geneva, Switzerland, 6 November 2015 - His Highness the Aga Khan, visited UNHCR headquarters today to meet UN High Commissioner for Refugees António Guterres and discuss past and future cooperation in emergency operations around the world.
UNHCR staff greeted the Aga Khan before he held private talks with Guterres followed by a meeting with senior UNHCR officials on the long-standing partnership between the Aga Khan Development Network and the UN refugee agency.