Welcome to F.I.E.L.D.- the First Ismaili Electronic Library and Database.
Meeting of Tajik Foreign Minister with the Chairman of the AKDN – Khovar Tajikistan News 2012-09-26
Posted September 28th, 2012 by librarian-hd
Date:
Wednesday, 2012, September 26
Location:
United Nations General Assembly
Source:
http://sjpaderborn.wordpress.com/2012/09/26/meeting-of-tajik-foreign-minister-with-the-chairman-of-the-aga-khan-development-network-khovar-tajikistan-news/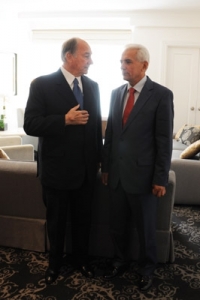 Dushanbe, September 26. (NIAT "Khovar").-
On September 25, 2012 in New York on the sidelines of the General Debates of the 67th Session of the United Nations General Assembly the Head of the delegation of Tajikistan, Minister of Foreign Affairs Mr. Hamrokhon Zarifi met with His Highness the Aga Khan, the Chairman of the Aga Khan Development Network.
At the meeting the sides discussed issues and prospects of the realization of the Aga Khan Development Network programmes and projects in Tajikistan.
NIAT "Khovar" has been reported at the Department of Information, Press, Analysis and Foreign Policy Planning of the Ministry of Foreign Affairs of the Republic of Tajikistan.