Welcome to F.I.E.L.D.- the First Ismaili Electronic Library and Database.
Priceless Aga Khan artefacts go on show 2012-06-18
Posted June 12th, 2012 by librarian-hd
Date:
Tuesday, 2012, June 12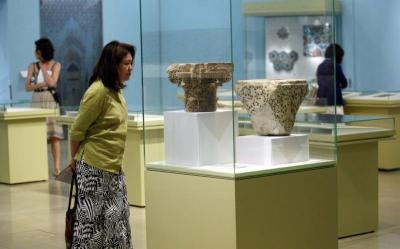 Nation
Sarawak
World Updates
Courts
Parliament
Columnists
Opinion
Honours List
Tuesday June 12, 2012
Priceless Aga Khan artefacts go on show
KUALA LUMPUR: Visitors to the Aga Khan collection being showcased at the Islamic Arts Museum Malaysian (IAMM) were awestruck by the large range of items on display.
Among the most notable is a miniature folio from 15th century Spain, glazed turquoise earthenware from late 14th century Central Asia, tiled arches from 15th century Egypt and decorated doors from 9th century Iran.
"As an architecture student, I have always wanted to attend an Aga Khan exhibition and I have finally got the chance. It is a dream come true,'' said Grace Jung from South Korea who was here on holiday.
The exhibits were collected by Aga Khan and his family over half a century.
The exhibition has six themes: Sacred Typographies, Religious and Funerary Architecture, The Fortress and the City, The Palace, The Garden, Pavilions and Tents and Architecture and the Written Word.
"This travelling exhibition was first shown in Russia in November and our last destination will be Singapore before it will be displayed at the Aga Khan Museum in Toronto next year," said IAMM collection manager from the Curatorial Affairs Department Rekha Varma.
Sight to behold: Visitors admiring the collection at the IAMM in Kuala Lumpur.
Hossien Taji from Iran said that he knew about the exhibition from the tourism centre.
"It is wonderful experience for me to witness the collection of a well-known person. the art is simply mind blowing." said Hossein who is studying at Universiti Kebangsaan Malaysia.
The Aga Khan travelling exhibition is organised by the Aga Khan Foundation and ends on June 29