Welcome to F.I.E.L.D.- the First Ismaili Electronic Library and Database.
Teshreen - AGA KHAN IN DAMASCUS - 2004-02-15
Posted February 25th, 2010 by heritage
Date:
Sunday, 2004, February 15
Source:
www.teshreen.com/daily/_default.asp?FileName 040214170455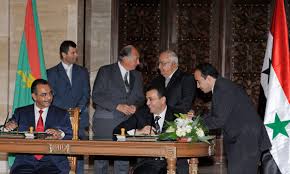 His Highness Prince Karim Aga Khan, Imam (spiritual leader) of Shia Ismaili Muslims arrived in Damascus yesterday to start an official visit to Syria.
The Aga Khan will hold talks during his visit to Syria with the higher officials in the country. He will also review the current and future programs that the Aga Khan Development Network is doing in Syria. Talks will mainly focus on the initiatives that the AKDN has launched in Syria since the signing of the cooperation protocol between the government of the Syrian Arab Republic and the Aga Khan Development Network 15 months ago.