Note: Audio is placed below the main text, when available.
Welcome to F.I.E.L.D.- the First Ismaili Electronic Library and Database.
Aga Khan and Princess Zahra in Kenya for AKU Board of Trustees Meeting - 2009-07-26
Posted July 27th, 2009 by heritage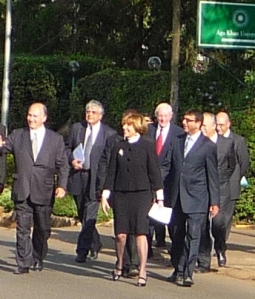 Date:
Sunday, 2009, July 26
H.H. The Aga Khan and Princess Zahra visited the AKUH in Nairobi, Kenya this afternoon as part of a working visit in the region for AKDN projects
Recent Articles
Posted July 27th, 2009 by heritage
Caption: Odinga decried the losses the country is incurring through migration of intellectuals and professionals to greener pastures abroad.
Prime Minister Raila Odinga on Monday called on professionals trained locally to commit a fraction of their careers to serving the country after training before they go abroad for greener pastures if they must.
The PM said the government is not opposed to Kenyans seeking greener pastures abroad saying the immigrants contribute to the economy through remittances but there should be a balance.
Posted November 7th, 2022 by librarian-hd
Source:
Canadian Ismaili (December 1995)
1995, November 13: Princess Zahra addressed the charity function held at Grosvenor Hotel, London where the theme was "Water for Life". In her speech, Princess Zahra said; "Investing in women yields high returns, both for themselves and for the generations to come" . Hazar Imam, in a message conveyed through Princess Zahra, said; "Through the voice of My daughter, and at the end of her speech, I want to associate Myself with the gratitude and respect she expressed for all those who have contributed to the mission of the Aga Khan Foundation.