Note: Audio is placed below the main text, when available.
Welcome to F.I.E.L.D.- the First Ismaili Electronic Library and Database.
Event - 1995-05-27
Posted June 3rd, 2008 by heritage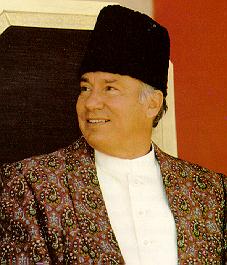 Date:
Saturday, 1995, May 27
Speech at the Dushanbe Concert Hall
Speech
Posted May 5th, 2022 by librarian-hd
Your Excellency President Rakhmanov
Distinguished Guests
Dear Friends
Today's gathering is a remarkable event. It brings together people from the many parts of Tajikistan, a country that, though small, has a rich and challenging diversity. It brings together representatives of a variety of neighboring and distant countries that wish well to the people of Tajikistan. It brings together religious and secular leaders deeply concerned with the future of Tajikistan's people.