Welcome to F.I.E.L.D.- the First Ismaili Electronic Library and Database.
HIS HIGHNESS THE AGA KHAN ON CHALLENGES TO PLURALISM AND COSMOPOLITANISM TODAY 2015-11-12
Posted November 6th, 2015 by librarian-hd
Date:
Thursday, 2015, November 12
Source:
Weatherhead Center for International Affairs Harvard University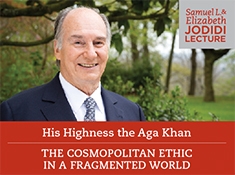 His Highness the Aga Khan, Spiritual Leader of the Shia Ismaili Muslims, Powerful Advocate of
Pluralism, and Global Humanitarian to deliver the Samuel L. and Elizabeth Jodidi Lecture.
Cambridge, MA
His Highness the Aga Khan, spiritual leader of the Shia Ismaili Muslims, powerful advocate of social change,and global humanitarian, will return to Harvard to present a lecture on the challenges to pluralism and cosmopolitanism in society on November 12, 2015, from 4:00 to 5:30pm as part of the Samuel L. and Elizabeth Jodidi Lecture Series.
As the 49th Imam of Ismaili Muslims—a branch of Shia Islam—the Aga Khan, believed by his followers to be a descendent of the Prophet Muhammad emphasizes a view of Islam as a thinking, spiritual faith one that teaches compassion and tolerance, respect for pluralism, and upholds human dignity.
A Harvard graduate in Islamic History, the Aga Khan encourages Ismailis, a global, multiethnic community with members in Central Asia, the Middle East, South Asia, sub-Saharan Africa, Europe and North America, to positively contribute to society as a tenet of faith. He warns that people of different faiths and cultural traditions best find a common language or risk losing to what he calls the dangerous "clash of ignorance" advancing across the world.
Since assuming the hereditary role in 1957, at age 20, the Aga Khan launched a number of innovative development initiatives including investing in fr-profit businesses to promote economic self-reliance and improve the quality of life in developing countries
.
This marks an innovative approach that development experts have called a useful template for others, including philanthropists such as Bill Gates and George Soros.
The Aga Khan Development Network, an international group of private nondenominational agencies, provides opportunities for people in the developing world. In partnership with
various stakeholders, it builds programs and institutions that take on the social, economic, and cultural challenges in the
world today. Its many branches support fields such as health, education, architecture, and rural development.
The event is co-­‐sponsored by the Prince Alwaleed Bin Talal Islamic Studies Program at Harvard University. It will include a conversation and questions with Diana L. Eck, professor of comparative religion and Indian studies and Fredric Wertham Professor of Law and Psychiatry in Society, Department of South Asian Studies, Harvard University; member of the Faculty of Divinity, Harvard Divinity School; and Harvard College Professor. She is also director of the Pluralism Project at Harvard University.
The Samuel L. and Elizabeth Jodidi Lecture is among the most prominent lecture series of the Weatherhead Center and is one of the most distinguished at Harvard. Established in 1955, the series provides lectures delivered by eminent and well-­ qualified people in order to "promote tolerance, understanding and goodwill among nations, and the peace of theworld."
The Center for International Affairs was founded by Robert Bowie and Henry Kissinger in 1958 and was renamed the Weatherhead Center for International Affairs in 1998. The Center is the largest international research center within Harvard's Faculty of Arts andSciences.It is distinctive in its recognition that knowledge is a product not only of individual
academic research but also of vigorous, sustained intellectual dialogue among scholars and nonacademic experts.