Ya Ali khub mijaalas - 2007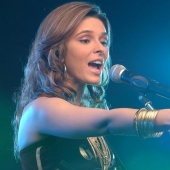 Raageshwari is a performing artiste (www.raageshwari.com) and
her father Trilok Singh Loomba is an Indian National Award winning
composer. They have performed world wide and wish to perform their Ginans
concerts with live musicians, Turkish whirling and Indian Odissi dancers
and back drop projections of Konya paintings. They are looking out for
sponsors for international concerts on Ginans.
literature_link:
in
Yaa Ali khub majaalas jinat kar-ke,
firas bichhaai gaali;
aan baetthe haye takhat upar,;
Sulataan Mahamad Shaahaa vaali
aaj raaj mubaarak hove,
noor aen Ali kun raaj mubaarak hove,
Shaahaa aal-e nabi kun raaj mubaarak hove,
hove hove aaj raaj mubaarak hove 1
Yaa Ali didaar lene kun aae Shaah
teri hindi jamaaet saari;
Sujadaa bajaa-kar najaraan deve,
jaan apanni kun vaari - aaj 2
Yaa Ali teraa nasibaa roje aval se,
detaa hae re kamaali;
Shaahaa Ali Shaahaa ke mukh men se nikalaa,