WAEZ App - Android application for Listening to Waez audio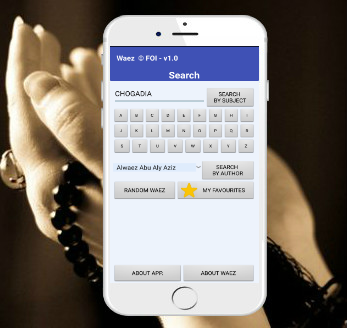 Waez-App-Image.png
DOWNLOAD it here - this App is not available in the Google Play Store!




From your Android phone,
Click on the app logo to download the app WaezV1S.apk onto your phone.
Once downloaded, click on the file to install it.
You must accept "from unknown source" just one time.
Compatible from Android version 5.0 and up.
Permission request : Access to phone (in order to stop the mediaplayer during phonecalls).
APP FEATURES
Easy access to Waez
Mark waez in your Favourites list
Choose Waez by Subject, Waezeen, Random Waez or from your favourites.
The marvelous Ismaili tradition of waez was developed by our Dais, Missionaries and al-Waez during Centuries. Unlike lectures by contemporary scholars, in the old times, our Missionaries used to keep the attention of the audience for hours. Bringing knowledge, reflection, emotions and tears in the eyes, Murids felt spiritually recharged after listening to a waez.
Now you can listen to waez from your phone! What a wonderful way to reach the eternal truth in the same way our parents used to do, except they did not have the facilities of Android Apps!
Enjoy and give us feedback so we can improve the next version!
Words of H.H. the Aga Khan on Waez:
…I want you to know that the Waez which we heard today was one of the most impressive Waez I have yet heard. I think that the spiritual children who are here and who wish to understand and to study the way a proper and good Waez should be given with good references to Islamic history presented in a correct form, presented in a logical form, should listen to the recording of this Waez and take good note of it. I feel this student has done exceptionally well, exceptionally well

27 Sept 1960, Karachi, Pakistan to Waezin Student.
From time to time, during My visits, I have had the feeling that some of the younger children in our Jamat are not clear on some of the basic issues, some of the most important matters in our faith. Therefore, from now on, make it a practice to go out, to travel within India, to go to the small centres and give Waez to the small children, so that these major issues of the practice of our faith and general concepts are well understood by these young spiritual children as they are growing up. This is important work which must be carried out by you.
… You should give to our Jamat a good understanding of our faith, for it is essential that they should understand, not only practise
Mumbay 22 November 1867 – To Waezin Assembly