Du'a App- Android application for Du'a audio, text & meanings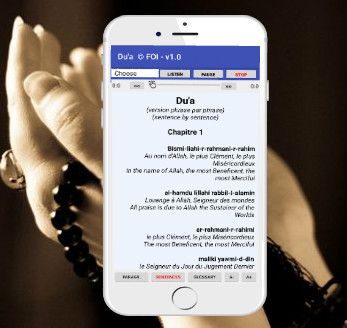 Dua App by ismaili.net
Link Fixed!
The Du'a is the prescribed and obligatory prayer for ismailis and constitutes one of the main foundations of faith and the basis of spiritual life.
DOWNLOAD it here - this App is not available in the Google Play Store!




From your Android phone,
Uninstall any old Dua App that you may have installed in the past, this is the latest version.
Click on the app logo to download the app DuaV1.apk onto your phone.
Once downloaded, click on the file to install it.
You must accept "from unknown source" just one time.
Compatible from Android version 5.0 and up.
Permission request : Access to phone (in order to stop the mediaplayer during phonecalls).
APP FEATURES
Easy access to Du'a
includes information and meanings
includes various recitations
USAGE
French and English Translation
Read Du'a by Paragraph
Read Du'a by Phrase
Browse the glossary of common words
Listen to Du'a by choosing a reciter
IMPORTANCE OF MEANING
I hope that you will not forget that the meaning is the foundation of our concept of Islam because our concept is esoteric. If it were exoteric, then it would not matter. But it is not exoteric, it is esoteric which means the meaning is for our Jamat, it is for our Tariqah and this is the foundation. So do not forget this. .
[Mawlana Hazar Imam, Bombay November 22nd, 1967]
MEANING AND SATISFACTION
I do not want young girls and young boys learning the Du'a and repeating it daily without understanding the meaning because it is the meaning of Du'a which will keep the young boys and young girls strong in their faith. If they simply recite the Du'a without understanding its meaning, it will be very difficult for them to gain any satisfaction from praying regularly every day.
[Mawlana Hazar Imam, Pakistan 1970]
Login to post comments

100074 reads