Junagadh Jamatkhana, Gujarat, India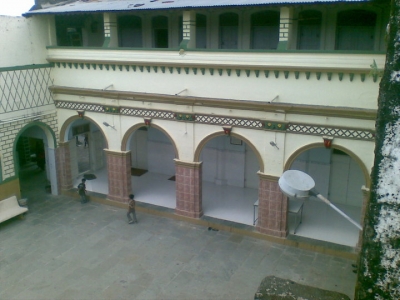 Address:
Shia Imami Ismaili Jamatkhana
Dhal Road,
Junagadh
PIN 362001
Very old Jamatkhana.
Houses The Regional Council of India.
Imam Aga Ali Shah is reported to have told to the Junagadh jamat to recite daily the tasbih of Ya Ali Ya Muhammad and salwat for 14 times in the Jamatkhana in the name of Varas Ismail Gangji and pray for him. Later on, Imam Sultan Muhammad Shah included the names of Varas Kassim and Itmadi Ibrahim in the tasbih. This practice is still operative only in Junagadh Jamatkhana. It indicates the great and incredible services of the Gangji family for the Imam and the jamat.
Login to post comments

39555 reads
Texts for Junagadh Jamatkhana, Gujarat, India
Honorable Pir Ismailbhai Gangji was native of Junagadh, Saurashtra, India. Very little is known about his early life, except that he was privileged to be a hero in the period of Hazrat Imam Hasanali Shah (1818-1881C.E.). He was born in family of an ordinary economical condition. He was a petty trader hawking on foot with a bag on shoulder from one village to another and cheating to earn enough to provide for the family.
Khota tara trajva ne dandee ma (n) kanetar, Katla ne tola bahu bhariji;
Ochhu (n) deedhu(n) ne jeeve adhku (n) releedhu(n). Ane jeevni chinta na keedhee
in
Gangji, the father of Ismail was one of the famous and dedicated social workers in Junagadh jamat. He had never gone to school, his family members called him gang i.e., unlettered, and became known as Gangji, making his original name disappeared in the records. He was however a man of middle class. His son Ismail is supposed to have been born around 1788 and his fame soon reached incredible heights as the Varas of Junagadh.
Texts for Junagadh Jamatkhana, Gujarat, India
Jamatkhana Images from India